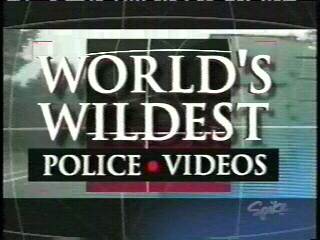 As we've seen on countless cop dramas like The Shield and Southland, being an officer of the law comes with certain risks. Your work in the community can often go unappreciated, the bureaucracy in the department slows down even the slightest hint of forward progress, and there are certain codes one has to adhere to in order to fit in with their fellow officers. Each show highlights, as does any other police drama, the physical danger that comes from criminals and various collateral damage; you can easily remind yourself of the fictional nature of the show to help ease any tension. On World's Wildest Police Videos, though, there's nothing at all fictional about the chaos that surrounds these officers.
Former Multnomah, Oregon sheriff John Bunnell returns to host 13 more episodes chronicling some of the scariest moments caught on camera by an officer. Take, for instance, the man in the bottom sneak peek; having just murdered multiple people, he took off in his vehicle, going over 100 miles per hour on a fairly busy highway. Just the thought of a distraught man trying to weave his way through that many people has to give you a bad feeling, but the footage itself is pretty insane, capturing a crash that looks to be pretty hard to walk away from. Or is it? Could a murderer survive something that heinous?
First debuting in 1998 on Fox, World's Wildest Police Videos took viewers inside the world that police endure on a daily basis, a world full of reckless drivers, criminal activity like robbery and assault, and potential danger lurking at pretty much every corner. The upcoming set of episodes will be the show's first new installments in nearly 11 years.
World's Wildest Police Videos returns Monday, May 7th at 8:00 on Spike TV. Until that time, you can check out the show's official website for additional video clips, blogs, and a schedule of upcoming episodes.