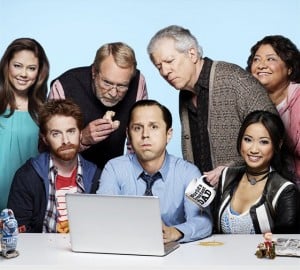 I like Seth McFarlane. I like Seth Green. I like humor that can be tasteless from time-to-time. I like that Fox takes chances on sitcoms that most networks would not want to touch. Yet, in the same breath, no matter how much I respect all those elements, I simply cannot get behind the show Dads. I tried watching it twice now, and was actually dumbstruck at how consistently unfunny it is. How can so many talented people spit out something so trite? Well, there are a couple ways we can look at this.
I feel like Dads is Seth McFarlane trying to step outside his box (which was already way outside of the box) and attempt to give his network a "classic" sitcom. It follows only a few people and the zany situations they get in. It follows a structure, and in that essence, tries to give us what we have had before in a way unlike we have ever had it.
The problem here is that Dads just lacks the fun and imagination of what makes McFarlane's stuff normally work so well. Gone is the zaniness and irreverence, replaced by dull jokes about stereotypes and weird people.  Frankly, that just does not translate here at all.  It is like they fling joke after joke, hoping one will stick, yet none of them do. It is kind of shocking considering how much talent the cast has.
A cartoon character can get away with some of the stuff they say on Dads, but a regular show can't because it just makes their characters seem flat and awful, and that is just what they do here. And don't even get me started on Seth Green. While I normally love his "snarky", here and for the first time in his career it just makes me dislike him.
Truth is, no one on the show is likable, and that is half its problem. We don't condemn TV too often around here, but I would not be expecting Dads to stick around that much longer.