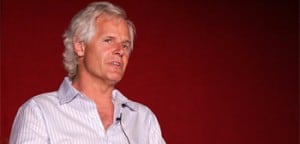 I cannot be the only person who thought the X-Files was a magic show, right? And I can't be the only one who noticed that Chris Carter, who created that wonderful show, hasn't been doing much since, right? Well, Chris Carter and X-Files fans get ready to be excited, because Carter is working on a new show for AMC. Chris Carter pairing up with AMC? Oh man, this could be a match made in Heaven.
What I like about AMC is that it is a network that pulls no punches. From the violence to the often gritty subject matter, AMC shows are always a ride, and a very dark ride at that. And you know what I loved about X-Files and Chris Carter? He pulled no punches, either. He wrote effective, creepy, adult-entertainment, and X-Files STILL stands as a testimony to this. Come on, we all know the Home episode was pretty much the best thing ever, we can admit that. And though Fox censored that episode, safe to say that, had Home been pitched to AMC, it would have run in full. And THIS is exactly why I am excited that Chris Carter is working on a show specifically for AMC.
You know AMC will do little to stifle or censor Chris, and this means we could be in store for some really awesome, messed up TV. The full story is here at Vulture, but what we know is it will be an hour-long science fiction show called The After That seems to be somewhat focused on the world's constant need for news, and the rebels who try to bring that news to us, no matter the cost. Carter said Julian Assange (founder of Wiki-Leaks) is part of the inspiration for the story, but just what that means we will have to wait and see,
In the meantime, I think we can all just quietly rejoice that Chris Carter is working on a new show.