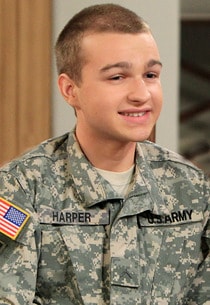 CBS CEO Les Moonves is now speaking publicly about the comments that Two and a Half Men star Angus T. Jones made on a religious channel a week or two ago. In short, he was urging viewers not to watch his own show, and said that he himself didn't want to be on it any more. Even after he's apologized, Les Moonves might be happy to oblige him.
Here's Moonves talking at a Wall Street Journal event (via Yahoo):
"We took this boy who started with us when he was eight years old, and it seems to be what happens with child stars over the course of time. He's now making over $300,000 per week, which is not a bad salary for a 19-year-old kid, and he went on a religious channel and urged people not to watch the show because it was filth. By the way, he's still collecting his $300,000 per week."
So is Angus coming back next season?
"We have other plans," Moonves said. "I don't know what our status is with him."
The rumor is that Miley Cyrus might be brought on to replace him, as she had a hugely watched guest arc this season, and she looks way, way better in a bikini.
As proven by Charlie Sheen, everyone is replaceable on that show. If they can replace Sheen with Kutcher, I can see them subbing in Cyrus for Jones at a moment's notice. Jon Cryer must be an expert at keeping his head down at this point.