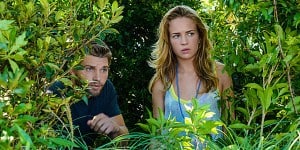 After eleven straight reviews of rants and tangents, I'm just going to simply reiterate that Under the Dome has been a major letdown for me since its pilot However, despite its major writing flaws (exposition randomly coming out of the radio) or inconsequential character deaths (I barely remembered Dodee's name before her death scene), last night's episode of Under the Dome, "Exigent Circumstances," was actually not overly horrendous.
While most of the series' characters are still as bland as ever and just as dumb as dirt, I really liked how Barbie and Angie were able to team up together against Big Jim and how Barbie didn't care so much about what happened to him as long as Julia and Angie were able to get away from the hospital unscathed. I still don't buy into Barbie and Julia's relationship and his "I love you" to her kind of made me gag. However, Barbie as a self-sacrificing hero is the type of character that I could get behind, especially if he can be shown to be more morally conflicted on occasion and not have the correct answer to what is right and what is wrong all the time.
On the flip side of things, while Barbie has become more interesting, Big Jim has transformed from a character that had some complexity into a cartoonish villain bent on world domination. The entire scene where he murdered Dodee and then burned the radio station down was laughable, even by Under the Dome standards. Also, he seems to be able to manipulate every other character (such as Linda and Junior, but they're also the worst) with such ease, despite the fact that almost all the citizens in Chester's Mill have had their suspicions about his shady activity at some point during this season.
And then there are all those crazy kids and their mini-dome, who were joined by Joe's amazing (and by that, I mean terrible) stoner friend Ben again this week. While the ending of the episode has me somewhat intrigued (What the heck was hatching from that egg? What is all the monarch crap about?), I still can't help but feel that I'll be disappointed by the end result.
And, honestly, the same can be said for Under the Dome itself, a show that showed so much promise in its first episode to be a fun,summer event, but then slowly became a chore to watch on a weekly basis. After next week's finale, I will not feel the least bit upset about leaving the citizens of Chester's Mill behind for good and finally escaping the creatively claustrophobic confines of Under the Dome.
What did everyone else think about last night's Under the Dome? What do you think will happen in next week's finale?