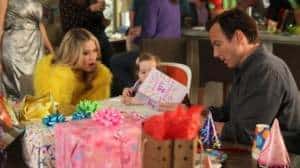 It's Amy's first birthday in tonight's all new episode of Up All Night. As they prepare for the party, Reagan is going through Amy's baby book and gets into an argument with Chris about Amy's first word, with both of them insisting it's either "mama" or "dada".
Later, Chris comes across their awkward and enthusiastic neighbors. When they say they haven't received an invitation to Amy's party yet, they suggest a joint birthday party for their kids. Unable to say "no", Chris reluctantly agrees, although he immediately regrets it. When Reagan finds out what Chris agreed to, she calls him a pushover.
At the party, Ava annonuces that she's Amy's godmother and takes it upon herself to make the party even wilder. When Reagan wonders why Ava thinks she's the godmother (because Chris' sister is supposed to be the godmother), Chris admits that he might have agreed when Ava asked shortly after Amy's birth. Once again, Reagan is frustrated by Chris' inability to say "no". Molly Shannon will also be making a guest appearance as party guest Nancy, who uses the party as the opportunity to find herself a man.
Watch four sneak peeks below for tonight's all new episode of Up All Night, airing at 9:30 p.m. EST on NBC.