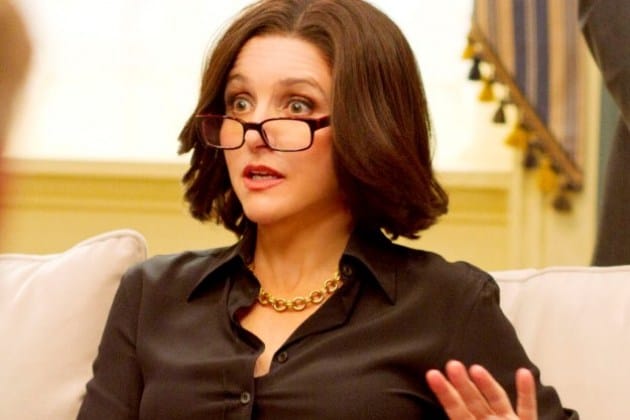 While the season premieres of critically acclaimed comedies Girls and Enlightened aired last night on HBO, the network released a teaser for another well-regarded female-centric vehicle in Veep, its political comedy from the mind of Armando Iannucci and starring three-time Emmy winner Julia Louis-Dreyfus.
Not much is known about the latest challenges that Vice President of the United States Selina Meyer will have to deal with. In the first season of the show, she had several crises that threatened the stability of her job and her relationship with the President, a series of PR mishaps that led to sagging approval numbers and a lack of confidence in her ability to do the job. While the teaser doesn't indicate the direction of the season, how the investigation into the MacAuley Amendment goes, or if she gets any part of her reputation back, it clearly shows that the Veep is still decidedly herself, for better or worse, and that she'll have to continue her climb from political obscurity on her own.
The teaser did confirm that the show would be returning in April, though no premiere date was mentioned. With the third season of Game of Thrones premiering March 31st, Veep will likely be delayed until at least the following Sunday (April 6th); last season, the show didn't arrive until April 22nd, one week after the series premiere of Girls and three weeks after the second season premiere of Thrones. The most probable addition to the line-up is Family Tree, an improvised mockumentary starring Chris O'Dowd as a man investigating his lineage.
Joining the cast this season are Kevin Dunn as Ben, Chief of Staff for the President, and Gary Cole as a Karl Rove-like character named Kent, said to be appearing in at least eight of the season's 10 episodes.
Will you be watching the second season of Veep when it premieres this spring? What did you think about the first season overall? How do you think the show could improve, if at all?