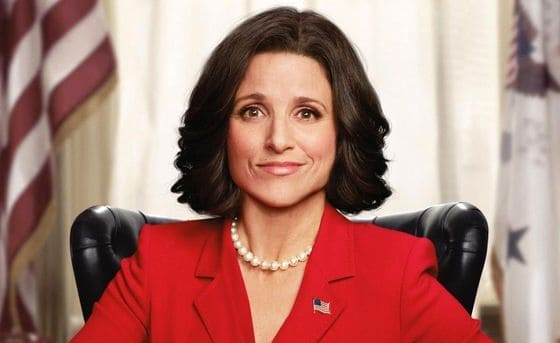 A day after unveiling the first trailer for the third season of Game of Thrones, HBO has released the first trailer for the second season of Veep, its critically acclaimed political comedy from Armando Iannucci (The Thick of It, In the Loop). The mostly wordless clip finds Vice President Selina Meyer (Emmy winner Julia Louis-Dreyfus) confidently walking the halls, her team gradually falling into line, before being stopped by the Secret Service. The reason? The President was rushing by and needed a clear path to wherever he was going. The Veep has one final shot to the heart when Jonah is seen lagging behind POTUS, acknowledges her presence, and leaves her standing.
It's unclear if Selina expected the President to pay her any mind, but after everything that happened last season – the PR gaffes, the sagging approval numbers, the failed projects – it's no surprise to see him hurry by and fail to pay her any mind. The Veep has become a political pariah in D.C. and is now one major weakness of the President's administration, a weakness that could conceivably be removed from office and replaced by someone who the public would find more agreeable. Can Selina rally the troops during the second season and prove her worth as a politician, as well as cement her position as Vice President?
In addition to Louis-Dreyfus, Veep stars Anna Chlumsky, Tony Hale, Matt Walsh, Reid Scott, Timothy Simons, and Sufe Bradshaw. Guest starring on the second season of Veep are Gary Cole (Entourage) as a Karl Rove-like character named Kent and Kevin Dunn (Luck) as Ben, Chief of Staff for the President.
The 10-episode second season of Veep premieres Sunday, April 14th at 10:00 on HBO. You can check out a  teaser for the political comedy here.
Will you be watching Veep this season? Can Selina find a way to shepherd one of her pet projects through Congress? How will the investigation launched in the season finale go?
http://www.youtube.com/watch?v=TYIZvegLp-k