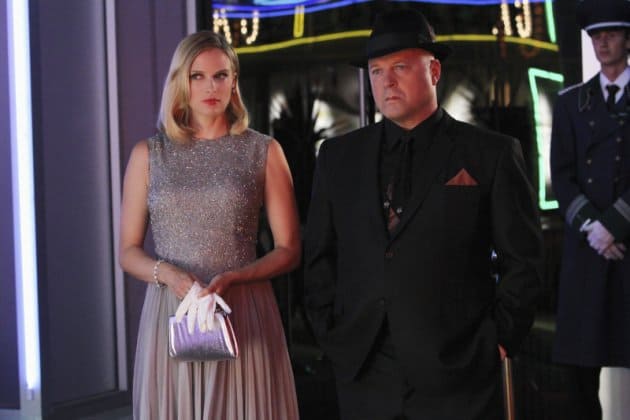 Last week's Vegas saw Vincent Savino go off on his own with plans to improve business in Las Vegas as Sheriff Lamb pursued yet another case.
Vincent Savino found himself the target of the Milwaukee mob when he made a move on a slowly dying local club – The Tumbleweed Club.  After his plan to expand The Savoy was shot down by his bosses, he decided to take another route, and claim a stake in a club that he could make prosper.  As he tells his right-hand-man Anthony, Chicago doesn't need to know about the deal until after it's all done and neat.  Though, the Milwaukee boys had their sights set on the Tumbleweed as well, and even went as far as tossing a bomb into the club in a statement that the owner better take their deal over Savino's, and opened fire at Savino in a parking garage.
Now, of course something had to be done about the problem in order for Savino's plan to work.  So, Savino and his boys do what must be done, offing the head of the Milwaukee group in their car behind a building.  But surely this isn't the end of Savino's trouble in going for a new deal.
Meanwhile, Sheriff Lamb investigated the death of an African-American Tumbleweed maid, Estelle Drew.  When the case led to trouble within the worker's Union it was suspected that the mob was involved in her hit-and-run death, however, the evidence soon turned to the fact that Estelle's father was actually a wealthy white man, Randal Paltry.  Pictures of the two of them led Sheriff Lamb to the real murderer, another maid at the Tumbleweed who was jealous of Estelle's conviction within the Union while her father was paying for her schooling.  How dare Estelle stand up for what they deserve when she was already reaping the benefits of money?  In anger, the woman drove her down leaving her for dead.
Also in the episode – a very risky potential romance between Ralph's brother Jack Lamb and Mia Rizzo.  Surely the conflict between the law and The Savoy will lead to trouble for these two.  I see a story of forbidden love in the future.  We also saw Ralph reflecting on his late-wife in a very sweet daydream scene.  Perhaps we'll hear more about the couple as the season progresses.
In the next episode of Vegas**, "Solid Citizens," Sheriff Lamb suspects Savino when the son of a member of the Nevada Gaming Commission is kidnapped.  It's possible, in Lamb's mind, that Savino is involved in order to fast-track a new gaming license for The Tumbleweed Club.  Meanwhile, Savino's wife Laura – Vinessa Shaw guest stars – comes to support her husband, though his promise to keep their family safe seems in jeopardy when a hitman from Milwaukee surfaces in the town.
Kidnapping, hitmen and shoot-outs – just another episode of Vegas.  Check out the promo below.
http://youtu.be/RVd_p6VgTC0
**With CBS's decision last night to suspend original programming in exchange for coverage of Hurricane Sandy, keep an eye on listings for news of Vegas's broadcast tonight.
Vegas is currently scheduled to air tonight at 10/9c on CBS.