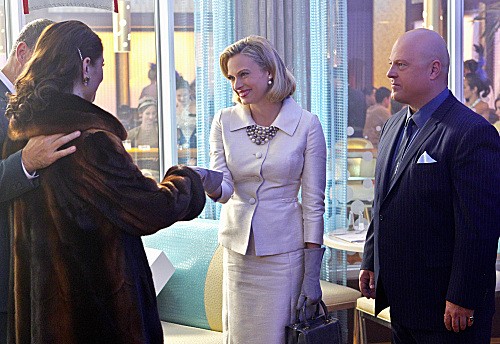 Last week on Vegas, Sheriff Ralph Lamb was forced to actually protect his adversary, Vincent Savino, from a mob hit out of Milwaukee.
When the mysterious hitman Jones returns to Vegas, this time he's not quitting until the job gets done.  The job?  Take out Savino.  Things get more interesting for the mobster when Davey Cornaro's body is found and Lamb takes up an investigation into the murder.  However, after Jones gets into The Savoy and shoots an officer, Lamb makes the move to take Savino into protective custody.
While the two are up at Lamb's ranch, partaking in a very awkward and telling meal, Jones, this time with back up, shows up intent on finishing what he started.  Lamb and Savino ultimately work together to tackle the men, and thankfully, succeed.
The biggest twist of the hour came at the very end of the episode.  Earlier on in the drama, it seemed as if Johnny Rizzo believed Savino was worthless to Chicago, even convincing Angelo the same.  Yet, when the two take Savino to a dark stretch of road, talking his mistakes up, Rizzo turns and kills Angelo.  (Something I should have seen coming, but didn't.)  Rather pleased with himself, and the fact that he got it approved, Rizzo tells Savino that he's the one in charge now.
Tonight on Vegas, things at The Savoy get a little complicated, and maybe even a little messy, for Savino, when Mia Rizzo hires a former mistress of his, who just so happens to be a popular cabaret singer, to sing at the casino.  Will Savino's wife find out?  Or perhaps she already knows?  This is the first time we've had potential for drama in Savino's personal-life, though, everything on Vegas seems to tie back to the mob, so be prepared!
Meanwhile, evidence in a murder case lead Sheriff Ralph Lamb to a nearby Air Force base.  Will Lamb be able to cooperate with the military?  His mysterious service time could come back to haunt him, and things could get ugly.
Tune in tonight!
Vegas airs at 10/9c on CBS.