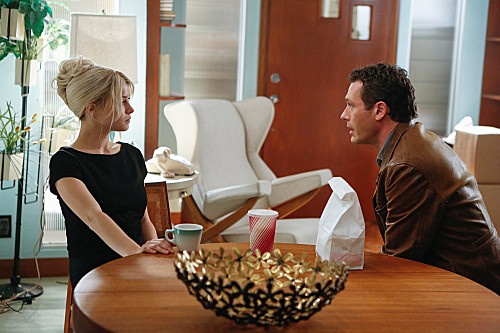 Last week, Vegas brought perhaps the biggest plot twist since the series began, when Jack Lamb was forced to kill Johnny Rizzo after being held captive.
Aside from watching Dixon take a case while Katherine and Sheriff Lamb searched for our friendly-neighborhood-escaped-killer 'Jones' and Savino and the boys spent the night in the desert – the episode featured a particularly high-stakes situation in Jack's becoming a hostage.
After trying repeatedly to convince Rizzo that he is in no way involved with the FBI leak, that Mia is not the leak in The Savoy, things came to blows, forcing Jack to shoot the mobster before he could shoot first.
But of course, this is not the end of this tale, as tonight in "The Third Man," Jack will be faced with having to give Mia the news of her father's death.  And judging from the promo (see below), she will not take it lightly.  Will Jack admit to what he's done?  Not only to Mia, but also his brother the Sheriff?
And who is the titular 'third man'?
We can only find out tonight.  Watch the promo, here.
http://www.youtube.com/watch?v=PvIsdOU0NNU
Vegas airs tonight at 10/9c on CBS.