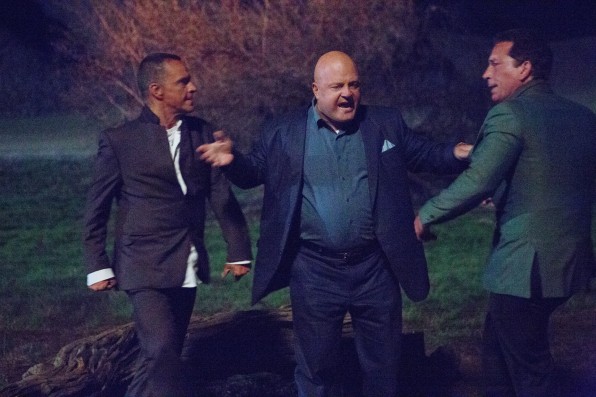 Vegas returns tonight with an episode that is sure to continue the trend of fantastic dramatics.
After an episode that certainly heightened the drama (apologizes for the lack of "From This Day Forward" recap/review ) with hints of Ralph's past love life and Savino sending Laura back to Chicago after learning that she's the rat in The Savoy, it's safe to say that Vegas is one show where anything goes.
Anything can happen.  Everything is a big deal.  And everyone is involved.
Tonight on Vegas, Mia's relationship with Jack will be put to the test, as Johnny begins to grill the deputy on it.  Of course, it's normal for fathers to be leery of their daughters' boyfriends, but we know that Johnny Rizzo is of special concern.  Perhaps Jack should be a little concerned – especially considering his situation in the promo.
Things will also get complicated for Dixon, after he discovers that a girl he saved from drowning has been poisoned.  And Savino and his crew find themselves stranded in the desert overnight.  My question?  Will the source of their predicament be legit?  Or is someone behind it?  Because as we know, mobsters and the desert often make for a disastrous combination.
And it would appear that our dear friend Jones has escaped custody.
Vegas airs tonight at 10/9c on CBS.
Watch the promo below!
http://youtu.be/ZlUQFY0SgLE