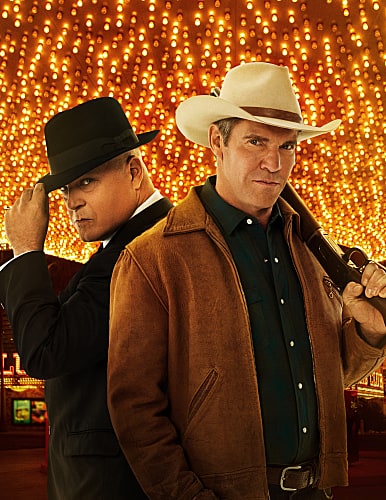 Set in the 1960s along the up-and-coming Vegas Strip, CBS's new crime drama – aptly titled Vegas – is actually based in fact.
Vegas is the story of real-life rancher Ralph Lamb, played by Dennis Quaid, who reluctantly becomes the sheriff of Las Vegas opposite mobsters aiming to take advantage of casinos.  Lamb is a real cowboy, who is clearly not afraid to get his hands dirty when dealing with life in the Wild West.
But when guns and gambling are involved, life is anything but easy.
The opposing force in the town is head mobster, an ambitious, tough-guy from the east, Vincent Savino, played by Michael Chiklis.  Savino and Lamb's interests in Vegas undoubtedly clash in a mix of law and lawlessness.  Their battle for control of the Strip is complete with rough action, slick casinos, beautiful women, and an odd sense of respect between the sheriff and the mob.
In tonight's pilot, newly badged Sheriff Lamb will be investigating the murder of the governor's niece, first clashing with Savino as he runs his swanky Las Vegas casino.
What do you think?  Is Vegas a show for you?
Take a look at the trailer below, and check out Vegas, tonight on CBS at 10/9c.