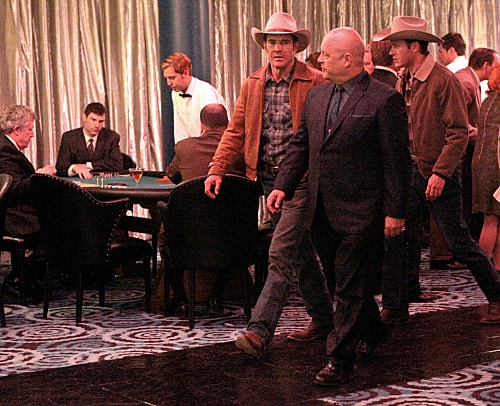 CBS's Tuesday night line-up played host to the network's new drama, Vegas.  Starring Dennis Quaid and Michael Chicklis, the show boasts a few labels – crime drama, period drama, non-fiction, you may even want to throw in Western.  Because really, cowboys, mobsters, and Las Vegas at the cusp of its boom – what else could you ask for?
In the opening scene of the premiere we meet Ralph Lamb, rancher, who within the first five minutes shows just how much passion he has for his work, and his distaste for the growing culture of the city, by slugging officials at the local airport.  Why?  Because the noise of an incoming flight disrupted his herd of cows.  This is Ralph Lamb – a man who just loves his ranch, and isn't afraid to use his fists.
That was one important flight that came in over that herd of cattle.  On it, Vincent Savino, Chicago mobster with ties to one of the most popular casinos on the strip – The Savoy.  It's clear that he fully intends to clean out the trash from his place and, at least on the surface, be a good, law-abiding businessman.  Though, while Savino can play smooth and classy in the casino, managing with a seemingly cool head and firm hand, he can be pretty tough when necessary – at least twice in the premiere.
These two men find themselves face-to-face when the Governor of Nevada's niece, Samantha Meade, is found in a ditch, murdered.  With the local sheriff MIA, the mayor summons none other than Lamb to the scene.  As it turns out, the mayor was Lamb's commanding officer in WWII, where the rancher served as an MP and solved the case of a serial rapist before being pulled away to a secret unit.  The mayor's faith in Lamb further pushes the fact that Lamb is willing to go to extreme lengths for a cause and sticks to his principles.
After following the trail past Samantha's boyfriend and a motorcycle gang – Hell's Angels – Lamb is led to a high roller named Stuart Mills, who had been funding his gambling by stealing from the bank he worked at, and has since disappeared.  When Lamb finds him he learns that Mills didn't kill her, but rather was involved in a secret deal with Samantha's boss, head of the credit office, Bob Perrin.
Yet, in the middle of all this, the District Attorney meets up with the town's current sheriff.  Apparently there's something big going on, and the sheriff wants to talk to the Feds, but can't run away from Savino fast enough.
By now Lamb is at the top of Savino's watch list, now that the case has firm ties to The Savoy, the two engaging in a stand off in the casino's kitchen where Lamb asserts himself as the law in the town.
Of course, Lamb gets his man after a relatively powerful chase scene on the airport's tarmac that reasserts that yeah, this show is part Western.  I have to admit, one particular low shot of Lamb's boots as he hits the pavement is kind of awesome.
But just when it seems that things may be 'normal,' for Lamb again, assistant District attorney calls him to yet another desert crime scene, this time, it's the mysterious disappearing sheriff found dead.
The mayor's comment – "You've got yourself a new job, Sheriff."
It seems like Vegas has an interesting angle on drama for this season.  Based in fact and primarily a crime drama, the time period and mob factors lend some intrigue to various possible storylines, and maybe even a little romance along the way. Though with a cast of an average age over 40, it'll be interesting to see how the show performs among a younger audience.  I enjoyed the pilot very much and feel like the show could add some differentiation to the crime drama list this season.
What did you think of Vegas?
Vegas airs Tuesday nights at 10/9c on CBS.