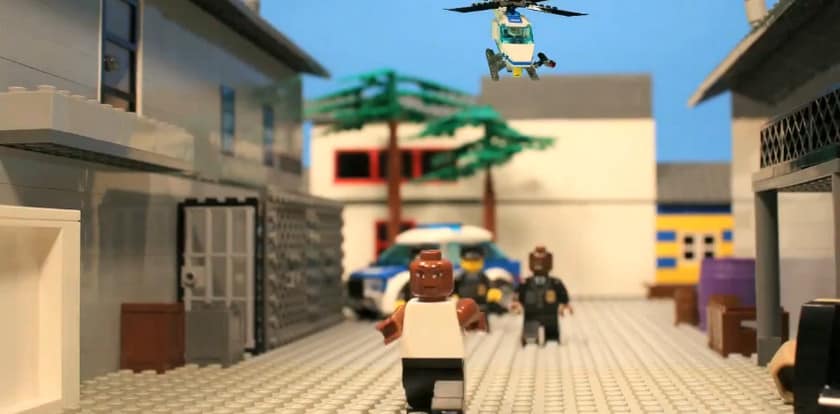 Grand Theft Auto in any other medium would be just as messed up if not more so. In its current incarnation it's already a messed-up video game that many people feel promotes violence and the kind of things that kids shouldn't be watching or listening to in this day and age. That old argument has been ongoing however since Mortal Kombat came out on Sega Genesis and even before then. GTA as a LEGO game however would be interesting, but even more screwed up than it already is.
Let's break it down shall we?
To start with GTA is increasingly violent. You actually get rewarded for doing dirt, no matter what it happens to be. The worse you are sometimes the better you do. In the LEGO world this means that you can literally bust your opponents or anyone else apart and receive a reward that can help you later on. Even if you just don't like someone you can blast them to pieces and take their ride or whatever else they have.
A lot of players love this game even though it seems to have no real point. Like so many games it has quests that need to be completed and a set story line that can be followed. But with each and every promo that's ever cut all you ever really see is the player doing as much wrong as they can and getting away with it. There are even scenes in which characters are allowed to fly jets and helicopters down the street. It's a dizzying game of madness that kind of caters to those that really have nothing better to do at times than to just lose themselves in a game that seems to glorify social chaos.
I won't bother condemning the game any more simply because I know a lot of people like it, but as a LEGO game it doesn't really seem like it would fit the idea. Most LEGO games are filled with puzzles and challenges that need to be solved before you get to move on to the next level or even onto the next part of the quest. GTA LEGO seems like it would just be nonstop rampage and destruction on a level that would be a little disturbing.
The people break apart for crying out loud, and the player is able to just keep going with impunity without anything happening to them unless they actually run up to a cop. And even then the cop is more likely to shoot at the perpetrator than cuff them. This game is wanton violence for the sake of violence it seems like. Many would argue the point but from the promos and clips that's what it seems like.
LEGO GTA could happen however if the company agreed and GTA agreed to tone down their level of violence a bit. How likely do you think that would be though. GTA has made a reputation with their games and the content and likely wouldn't back off that much.
Maybe it wouldn't be such a loss really.
Save