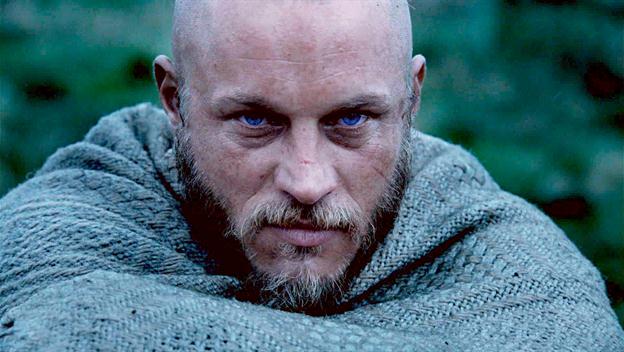 Ragnar Lothbrok is a man with direction, purpose, and ambition – if only he had a way to channel that. The warrior/farmer has a fine, comfortable life in his village, one that his people dream of from the time they can remember, but while that may enough for some, Ragnar's unfulfilled. He dreams of bigger and better things, of worlds yet unexplored and of a life full of excitement and wonder, all of which he can't experience in reality as long as he's within the village limits. On the series premiere of Vikings, though, Ragnar makes a move toward advancing Viking society. Will anyone listen?
Before change can be implemented among the Vikings, Ragnar has to convince the town leader Earl Haraldson of the advantages of changing their raid route. For years, the town has only gone east and while they do well for themselves, they're limiting the haul they could be bringing home by hitting the same places time and time again. Ragnar has even designed a boat that could help them traverse western waters easier and make trips go much faster, but for now, Earl is holding on to his conservative beliefs and refusing to consider altering the way that the raids are run.
Vikings stars Travis Fimmel as Ragnar; Gabriel Byrne as Earl Haraldson, Ragnar's conservative chieftain; Jessalyn Gilsig as Siggy, Haraldson's wife; Gustaf Skarsgard as Floki; Clive Standen as Rollo, Ragnar's wild, impulsive brother; Katheryn Winnick as Lagertha, a fierce shield maiden and Ragnar's wife; and George Blagden as Athelstan, a Christian monk captured by Ragnar on a trip to England.
The series premiere of Vikings airs Sunday, March 3rd at 10:00 on History.
Will you be watching Vikings? What would it take for Earl to listen to Ragnar about the wonders of going west and the goods that await them? Can Ragnar make the journey on his own and inspire his people to think about a world beyond what they know?
http://www.youtube.com/watch?v=grXZIqVBBf0
http://www.youtube.com/watch?v=G8VabUzS51I
http://www.youtube.com/watch?v=sjvekELvlJ0
http://www.youtube.com/watch?v=32WBmHwQrkU