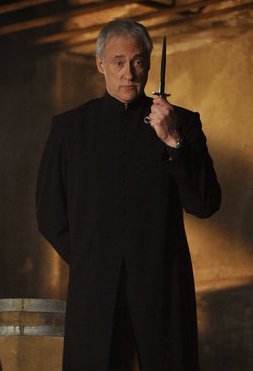 Last week's stunning, critically praised, Warehouse 13 season opener introduced fans to Brother Adrian, portrayed by sci-fi icon Brent Spiner. A few days ago, W13's super-talented showrunner Jack Kenny and the inimitable Mr. Spiner addressed questions about the series' new darker tone and what brought Brent to the party.
Brother Adrian figures prominently in the first ten episode arc of Season Four, prompting curiosity regarding the character's origin. "Well, we always like to have a big bad in each season, and we kind of like to play with what that big bad is and what's underneath." Jack Kenny details, "Even with someone like MacPherson or Sykes, it's never all black and white, or "He's just an evil guy," there's always a reasonable rationale or desire going on underneath – grey areas. Everybody has their reasons for doing what they do, and Brother Adrian has his reasons for going after Artie as you'll learn in the next episode."
While one might assume the villainous monk was written specifically for Spiner, Jack explains Brother Adrian's true [behind-the-scenes] origin. "It was really about giving Artie an arc for the season, and about giving him a nemesis. I went to Saul (Rubinek) because I knew he'd be in every scene with Brother Adrian all year, and I said, "So you're friends with Brent Spiner, right?" And he said, "Yes." I said, "What would you think about Brent for Brother Adrian?" And Saul was ecstatic. He said, "Oh my god, that would be my dream come true."" Brent Spiner attests, "Jack writes a really wonderful show. It's entertaining and it's smart. And that's a real change of pace. An actor's goal is to be as good as the material, and in this case the material was good. So I jumped onboard and had a really amazing time. I went back and forth to Toronto six times from Los Angeles for it, and each time I looked forward to going for the opportunity to work with Saul again and because I knew I was going to have a pleasant experience with a great bunch of people. Reuniting with Saul again was like swimming in a rainbow. He's an amazing actor, an amazing talent, and it was just fantastic to be back on stage with him."
Jack teases about Brent's role, "Brother Adrian is human, at least in certain ways, in certain ways maybe not. Certainly he's a very powerful character, and that's something Brent definitely brings to the table – a sense of power without having to twirl a mustache or flex a muscle; he just has a presence. That was what was most important for Brother Adrian. There has to be an almost serenely powerful presence that you understand when you see this guy – do what he says or you will be unhappy. And that's very important for the relationship that we build throughout the season between Artie and Adrian." Confiding, "I love the first time we see Brother Adrian again. I think the dynamics that go on are so interesting and unique between them, I love that."
Fans of Brent Spiner's famous sense of humor have likely been enjoying his ongoing webseries, Fresh Hell. Having wrapped its delightful second season the week before last, everyone wanted to know if another season is to come? "We're going to do a third season. I'll probably stop after Season Nineteen." Brent discusses Fresh Hell's beginning and possible future, "I'd been playing with this idea for a long time actually, quite a long time. I worked very briefly with [director] Chris Ellis, on a project and I told him the idea and he thought it was a cool one. He said, "Let me talk to my friend Harry Hannigan who's a writer and I think he'll be good for this too." And so we all got together and you've seen the result." Aware of the sardonic sitcom's growing fanbase, Spiner responds to the idea of it moving to Primetime TV, "I would love it if it was on television and I'd love to have a television series, but since nobody asked me to do one it is where it is right now. The beauty of the Web is that you can do your own thing. It has great advantages and it has some disadvantages, the major one being you don't make any money. But the advantages are that nobody second-guesses your material. You can do whatever you want to do without somebody saying, "No we don't like that, do something else." And there are other advantages, such as the instant worldwide feedback. So it's been a really pleasant journey so far. We'll probably put it out on DVD at some point. And should one of the networks want to put it on air, well, we'll consider that."
Despite Brother Adrian seeming humorless, Brent and Jack assure us that the opposite is actually true. "You get a different version of Brent Spiner humor." Jack declares, "Because he spends the entire season basically torturing and toying with Saul. So it's an "evil" humor that comes through, I think, in a lot of ways. It's a really fun ride I'll tell you, their relationship is not like anything you're going to expect." Spiner playfully agrees, "You're getting the "evil Brent Spiner" humor. The "real" Brent Spiner humor."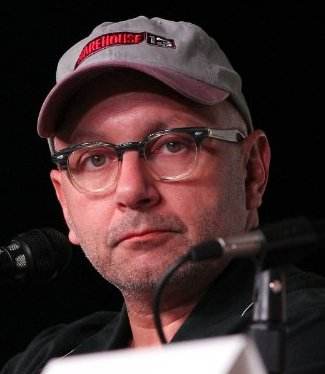 With Warehouse 13's success only growing, Jack shares why he thinks it's worked, "I think one of the reasons we attract such a broad audience is because we do action-adventure-comedy. I call it a Thrilleromedy, because it's got drama, comedy, runs and chases and it's just a fun ride. And I think people like fun rides. It's why the Back to the Future, Star Wars, and Indiana Jones franchises have all done so well, because they're just fun rides. I also think all those franchises created characters that cared about each other and so, in turn, you cared about them. It's a family – at the end of the day — I've said this many times — Warehouse 13 is a family show. Almost every relationship in it is familial. Even the Brother Adrian-Artie relationship is very, very much like two brothers, which is one of the great advantages of having Brent play it, because Saul and Brent act very much like two brothers. They have that inherent chemistry going on, so you turn a camera on them and it just comes through and leads very well into the familial nature of our show." Kenny continues, "I like watching shows that are family shows and I think that almost every good show is a family show. I think that's what people can relate to. Because at the end of the day you don't really want to see a show about a workplace that's purely a workplace because we all come from those. I don't know that it's terribly relaxing to come home, sit down and watch a show about co-workers and their petty jealousies without that added ingredient of people who actually care about each other. I didn't set out to write this way as a writer, but I find that the way I approach every script that I ever write is as a family because that's just what I know. I wouldn't begin to know how to write a cold procedural, although I certainly recognize their value and the fun that people have with them. I just don't know how to do that. I only know how to write characters who love and fight and do all those things like a family does because it just feels natural to me – I always feel like if they care about each other you'll care about them – and that's the kind of thing I want to watch."
In addition to Warehouse 13's magnificent cast, many viewers tune in to see which artifact pops up week-to-week and what we might learn about the Warehouse's mythology from them. Jack relays a couple twists that may shock you. "In one episode there's an artifact that's actually inside of someone that has to be dealt with and neutralized." Further sharing, "We'll also see the birth of an artifact in an upcoming episode. We'll learn how an artifact is born. Plus we'll learn more about how the football keeps track of artifacts and decides whether or not we have to collect them. So we do open up the mythology quite a bit with artifacts this year and learn more about how they're made and how they're done. And we learn a little bit more about Mrs. Frederic, who she is, how she exists and what her life has been like."
As promised, I asked Jack to clarify the current state of the rumored Warehouse 13 spin-off. "It's not dead yet. Nothing is ever dead in Hollywood. We're still working on the notion. Bob Goodman and I have been kicking around the idea of a H.G. Wells prequel, set in NYC in the 1890's, showing her be kind of a Sherlock Holmesy type character for some time but it's problematic because it's really expensive to make a period show in 1890's New York, it's a fortune. We're still kicking that around, still working with Syfy on it, but it's not currently at the top of their development slate. As the saying goes, "Nothing is dead in Hollywood until there's a stake through its heart," and right now I don't think there's a stake through our hearts. So it might happen, you never know."
One thing music fans know for sure is how seriously talented Brent is as a singer. Dreamland, his sensational follow up album to Ol' Yellow Eyes Is Back, features special guest vocalist Maude Maggart (sister of Fiona Apple). "It's really good," Brent beams, "it's on my website (therealbrentspiner.com), Amazon, and iTunes. It's a particularly interesting production and Maude Maggart is a genius. Maude's really unbelievable. Check it out!" Being a fan, this reporter wholeheartedly recommends you do too.
Make sure not to miss tonight's all-new Warehouse 13 thrilleromedy titled, "An Evil Within," guest starring Kate Mulgrew and Aaron Ashmore @ 9/8c on Syfy. Whet your appetite by screening the sexy preview scene below featuring Allison Scagliotti as Claudia Donovan.