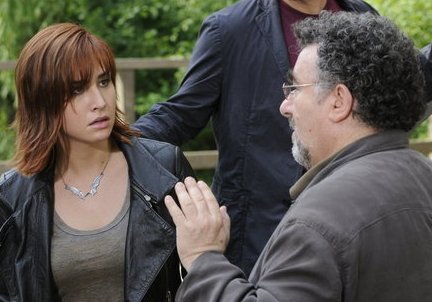 If you've watched the first nine episodes of Warehouse 13's fourth season you've likely noticed the darkness that's overtly encroached on its tone. That tonal change, discussed in my interview with Saul Rubinek and Eddie McClintock when the season premiered (available here), was seriously controversial among fans of the signature lighthearted approach that marked the series' first three incredibly well-received seasons. Well, tonight's midseason finale is precisely the kind of nightmarish installment those comedic-oriented fans were afraid of.
In "We All Fall Down" the team discovers Lena's fate and its cause, prompting the core cast to demonstrate rarely seen depths of their dramatic acting chops. Aaron Ashmore, CCH Pounder and special guest Brent Spiner all deliver praiseworthy performances but it's the main four [Rubinek, McClintock, Kelly and Scagliotti] that really knock this one out of the park. While each of the primary leads has been emotionally distraught individually in past episodes, the cumulative weight of their collective grief and foreboding really raises the anxiety level here. I personally spent the entire episode on the edge of my seat due to Rubinek's exceptionally ominous (and cruelly alarming) turn. There's no denying the emotional power exhibited by Saul in this sad and notably tense episode – an episode in which many tears flow from its characters throughout. Depending on the degree to which you've grown to love these characters, this one will really break your heart.
It's not my intent, via this review, to scare you off watching this series' most disturbing and well-acted installment ever… but I do want to warn the families that typically watch Warehouse 13 together to be prepared for what I consider to be one of the saddest hours of television in recent memory. The number of laughs (or even smiles) in this gripping episode are, indeed, greatly reduced but McClintock (as Agent Pete Lattimer) still manages to bring a few home.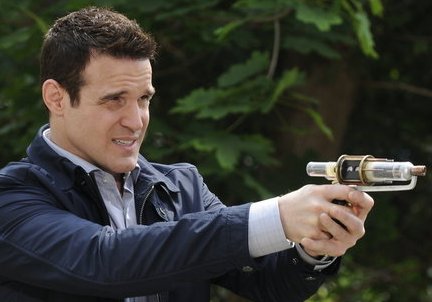 The last time I spoke with showrunner Jack Kenny (revisit it here) I shared my personal belief that, in Warehouse 13's first three seasons, he'd revealed a level of sci-fi storytelling mastery I'd previously only associated with the likes of Gene Roddenberry and Joss Whedon. Thanks to tonight's moving episode, I'd also add showrunners Rod Serling and Steven Moffat to that exalted list I [comparatively] placed Jack with. Serling, for the pervasive sense of dread "We All Fall Down" instills, and, Moffat for the consummate precision with which it tears at your heart.
Suffice it to say that while I give tonight's episode my most powerful recommendation possible, I think it may be wise to compliment your typical bowl of popcorn with a box of tissues as well. And, as is the case with most midseason finales, expect a riveting cliffhanger.
Warehouse 13 returns April 2013 with ten all-new episodes for season four. But during this last adventure of 2012, don't forget to check-in tonight at GetGlue while watching to unlock a special sticker depicting Allison Scagliotti as Claudia Donovan. And, assuming you're all caught up to this episode already, make sure to check out the preview video below.