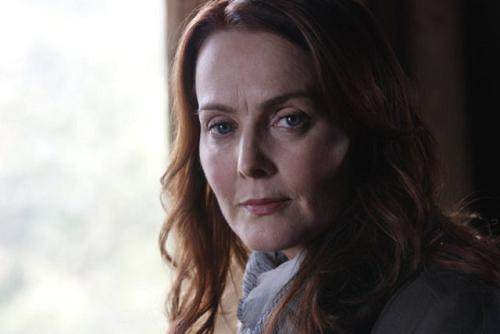 Jinks's mom is here and it's about to get all types of awkward.
Syfy has announced that Emmy-nominated actress Laura Innes will be guest starring on an upcoming episode of Warehouse 13 as Emma, the estranged mother of Agent Jinks (Aaron Ashmore). But there won't be much time for painful memories and unpacking family baggage, as Emma will have to help the team in a crisis before they lose out on an artifact. The two will have to put aside their differences and work together for the first time in years in order to help the team and, by extension, themselves.
Best known for her role as Dr. Kerry Weaver on ER, Innes has also appeared on the likes of The Event, The Louie Show, and My So-Called Life. Most recently, she played corrupt police captain Tricia Harper on NBC's critically-acclaimed (and canceled) Awake.
Warehouse 13 follows a group of government agents that work at a top-secret storage facility for strange artifacts. The team chases paranormal leads in order to keep the warehouse supplied and quarantine as much preternatural activity as they can. The show stars Joanne Kelly, Eddie McClintock, Saul Rubinek, Genelle Williams, and Allison Scagliotti.
Warehouse 13 airs Mondays at 9:00 on Syfy, with Innes's episode airing September 17th. The season will have a total of 20 episodes, the most in the show's history and up from the previous high of (ironically) 13.
You can check out an interview with Jack Kenny and Brent Spiner here, as well as talk about the new season on the TVOvermind forums.
Are you enjoying the current season of Warehouse 13? How much progress do you think the mother and son will make during the episode? Can they work together well enough to solve the crisis?