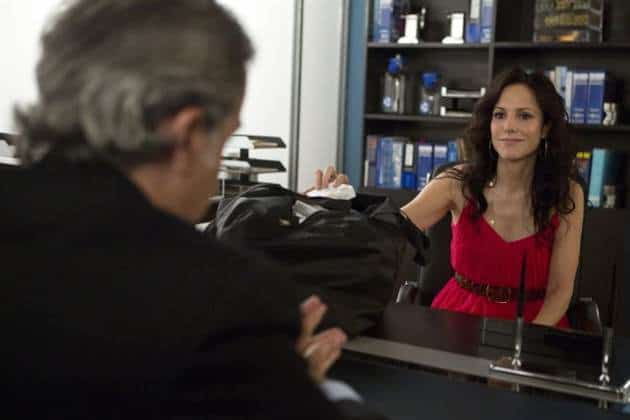 Nancy Botwin is a black widow with an iced coffee addiction. This is a woman used to getting what she wants by any means necessary, whether it be through schemes to outwit her opponent or through the use of her feminine wiles as barter for whatever she needed at the time. Last week on Weeds, she had a fling with Dr. Cornish in exchange for his purchase of the synthetic marijuana pill that her company is peddling and this week, her attention turns to the rabbi.
It's unclear what Nancy wants out of the rabbi. With Andy getting Jill pregnant and her children growing up, it could be a simple case of loneliness and strong physical chemistry that leads to their hook-up. For the first time in a long time, Nancy has stopped to take a breath and there's nobody around to rest with; considering the kindness the rabbi showed her through the use of his pool and his advice thereafter, it's not a shock that she gravitated to him in a moment of weakness. Knowing Nancy Botwin as I do, though, I can't help but think that there's some other motivating factor, something to gain from time with the holy man aside from a cheap thrill and another story to tell.
Elsewhere on Weeds, Nancy is being tempted to return to the product game by an employee at a doctor's office she's visiting. A major part of the final season has been her reluctance to continue living the way she has for the past decade or so, but the promise of easy money and the thrill that comes with being involved in the business might be too much for her to handle. Nancy may have a new job, but she's always had to have bigger, better, and more, likely due to her initial financial problems that kicked the series off, and this could be a way to really provide for her family. But will she fall down the rabbit hole once again?
Weeds airs Sunday at 10:00 on Showtime.
Do you think that Nancy will want to go back to her former life moving product? Do you think she should? How will her hook up with the rabbi impact things going forward?