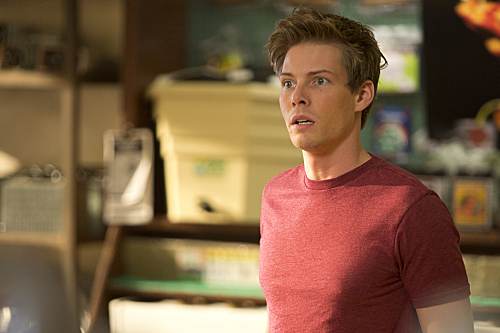 Now that Silas Botwin has went into business away from his mother, he's had to assume more responsibility than he had previously. After being involved in the drug business for seven seasons, he knows it backwards, forwards, and upside down, having deliberately pulled away from Nancy last season in a fit of independence. But by assuming a bigger role in the industry, he has to do things that he might not have had to do in other seasons of Weeds.
Upon being caught trying to take back his plants, the young man gets mistaken as a stripper for a birthday party happening in the house. Silas has already became a Christian Grey like figure with Kiku earlier in the season, but that was voluntary and this…this is more "stripping for your life". If he drops his guard, he could risk exposing his true intentions in coming to the house that night and maybe even get arrested, so for the time being, he has to swallow his pride and shake it like he means it.
Elsewhere on Weeds, Jill's pregnant by Andy (we think) and everything went to hell. Previously, Andy had been very non-committal toward the idea of being with Jill long term; now, if Jill ends up having the baby, he'll have to stick around whether he wants to or not. For the past couple of seasons on Weeds, Andy's been yearning for a little domesticity, a family to come home to and the type of stability that he couldn't have while helping Nancy time and time again. But now that he has the house, the woman, and the kids, it might not be right for him. He doesn't love Jill, but Andy's so focused on trying to do good and be the man he thinks he should be that he might stay with her anyway.
Weeds airs Sundays at 10:00 on Showtime.
How have you been enjoying the final season of Weeds? Do you think that Andy will stay with Jill now that she's pregnant? Will Silas get his plants back?