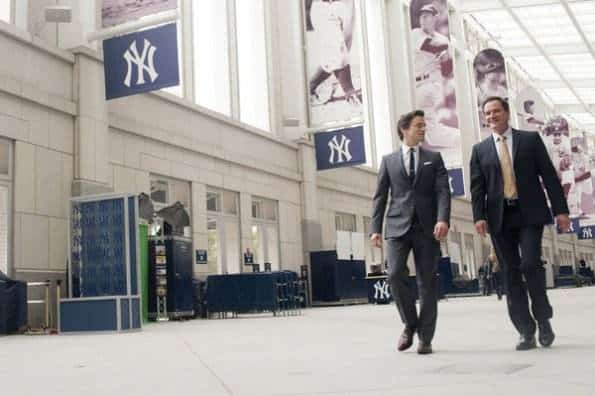 Tonight is the penultimate episode of season 3 of White Collar and Neal's (Matt Bomer) forthcoming commutation hearing is a pressing subject. The team will also be heading to the new Yankee Stadium as a wealthy baseball fan plans to steal a valuable piece of memorabilia; a baseball signed by the legendary Babe Ruth. As the prospect of freedom looms will Neal prove that he is ready for it or will his old habits jeopardize this?
The White Collar production team are the first to shoot inside the new Yankee Stadium, which as you can imagine is a big deal. One thing that I particularly love about this show is how they use and utilize New York and the architecture when they are shooting the city, so you can see why they have been given this privilege first. The promo shot above is particularly striking so you can see why they wanted to film there. The director of the episode is also a first timer and that it is show star Tim DeKay, who is behind the camera as well as in front this week. Unfortunately for DeKay this is a Peter heavy week so he really had to juggle both roles.
Peter has a big decision to make regarding his evidence at the commutation hearing and we have already seen that Peter's mentor Agent Kramer (Beau Bridges) is trying to gather evidence that will prevent Neal from getting his freedom. In one of the sneak peeks below you can see what Diane (Marsha Thomason) decides to tell Peter about her conversation with Kramer at the end of the last episode. Is she loyal to Peter? Tim DeKay spoke to TV Line about the impact of Peter's choice and why it is weighing so heavy on his mind; "Peter will realize his decision is going to not just decide Neal's fate but possibly also decide his own."
Tonight we will also see Neal and Peter swap places in terms of who is getting the giddiest about the priceless artifact that is the target of the con. Normally Peter is less concerned about what it being stolen and just wants to prevent the crime from happening and catch the perpetrator, but not on this occasion and it will be good to see the pair viewing the con in a different manner.
Will Peter make his decision by the end of tonight's episode regarding Neal? Are you looking forward to seeing a con in Yankee Stadium? Let us know your thoughts in the comments section.
Watch the promo and 3 sneak peeks for tonight's episode "Stealing Home" below.