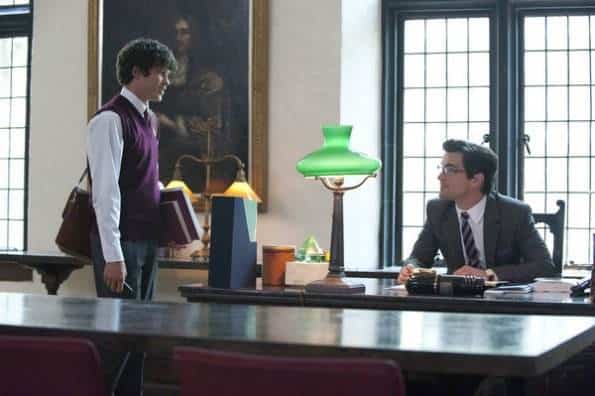 After last week's excellent dramatic return and rescue by the White Collar team we get a more run of the mill episode tonight, one that has Neal (Matt Bomer) trying to get back into Peter's (Tim DeKay) good graces after the big treasure con that led to Elizabeth's (Tiffani Thiessen) kidnapping. This case will see the team heading to a New York private school that appears to be the victim of embezzlement at the hands of the always excellent (and sometimes super creepy) Dylan Baker. Light spoilers ahead.
Baker is playing Andy Woods, an American financier who has been an FBI target for some time as it is believed that he has ties to a cartel. Despite these suspicions they have never had anything concrete against him, but the missing money from Manhattan Prep might prove to be the break in the case against Woods. Baker recently guest starred on The Good Wife and it is another Good Wife regular who brings this case to Peter's team; Graham Phillips (Zach Florrick) is Evan, a young whistle blower who attends the private school with the help of financial aid. After Evan was told that there wasn't enough money in the endowment fund to continue this aid he went ahead and did some digging of his own and he discovered that since Woods took over the fund, money has been disappearing. Time to go undercover at the school.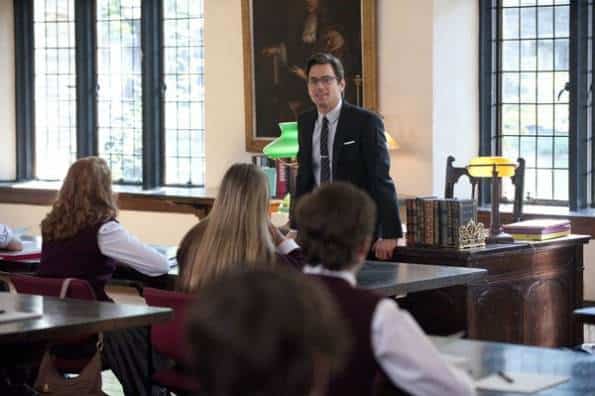 The initial plan is for Peter to pose as a parent, with Neal as his assistant, but thanks to a mix up and Neal's great mind for poetry a certain Mr Caffrey becomes Mr Cooper, the substitute teacher. How will Peter feel when he sees that Neal will be in a position to shape young minds? Peter of course hasn't forgiven Neal for his recent indiscretions with the stolen treasure, and it will be some time before they will get back to the comfortable and almost trusting place they were previously. I think Peter will always have some suspicions towards Neal's motives and actions, he is a con man after all reformed or not. The reveal at the end of last week's episode that Neal's probation could end in 3 months is another new white elephant in the room where the treasure use to be; will Neal actually get the anklet removed or will he do something to screw it up again.
The one person who is willing to stick up for Neal is the person who justifiably could be the angriest with him and that is Elizabeth, she was after all kidnapped. First of all I want to say how pleased I was to see that they didn't treat Elizabeth like a damsel in distress and she managed to break free using her diamond ring of all things. Even though she was the one who was kidnapped she wasn't portrayed as a victim and she managed to pull a con on the person that Keller (Ross McCall) had left to keep guard (ok he wasn't the smartest henchman but it was still pretty awesome). Elizabeth defends Neal to Peter by reminding him that Neal was willing to give up the treasure for them, but the fact that Neal had the treasure in the first place is still an issue for Peter.
This looks like it will be a fun episode and it will be good to see how the dynamic has shifted with the big secret out of the bag and with the Keller story wrapped up. From a purely aesthetic point of view I'm also very happy whenever Neal has to wear his glasses and I'm thinking that the poetry teaching this week will add another element of enjoyment.
Let us know your thoughts on last week's mid-season premiere and what you would like to see happen for the rest of the season in the comments section.
Watch 3 sneak peeks and the promo for "Upper West Side Story" below.