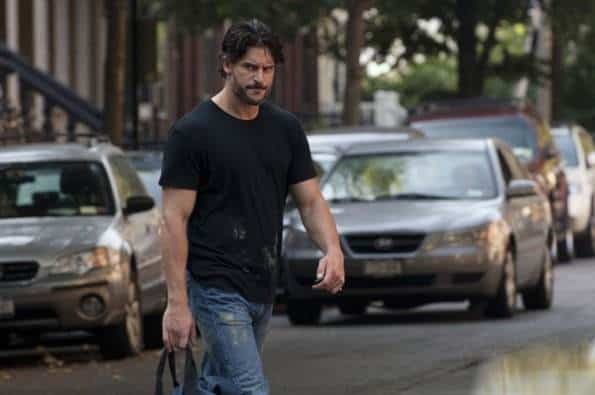 White Collar heads a little closer to home for Peter (Tim DeKay) again as some criminal activity might be brewing in his neighborhood. Elizabeth (Tiffani Thiessen) overhears a suspicious conversation but is she overreacting thanks to her recent personal experience or is it more insidious than this? We have plenty of sneak peeks below to tease the crime that Manganiello might commit. Warning spoilers ahead.
Elizabeth overhears the conversation as Peter has left a scanner at home which means that the exact location of this discussion is unknown at first, but she does know it is someone who is a convicted criminal. This leads them to True Blood's Joe Manganiello who is ex-convict Ben Ryan, who lives in their neighborhood.
As the sneak peeks below show, the time and location of the crime that Elizabeth believes will happen appear to be incorrect. However, that doesn't mean that Peter won't indulge her, even if he thinks that she might be a bit paranoid after her kidnapping. Elizabeth doesn't have far to got to find someone that will believe her though and she calls in Mozzie (Willie Garson) to help. I'm a big fan of this pairing so I'm looking forward to seeing them working together. Neal (Matt Bomer) will also play an important part; he took on the role of teacher last week and he will find himself going undercover again but this time he might have to ditch the suit and glasses.
There is a personal connection between Matt Bomer and tonight's guest star Joe Manganiello as they were both in the same graduating class at Carnegie Mellon University (the class of 2000 if you were wondering). This is not the only time you will see them appearing in the same project this year as they are both in Steven Soderbergh's Magic Mike and will both be playing exotic dancers (yep you read that right).
Matt Bomer had another piece of big casting news this week as he will be appearing on Glee this April as Blaine's (Darren Criss) brother. They showcased this singing talent of Bomer's once last season on White Collar and I think it is time to get him harmonizing on the show again.
Watch the promo and four sneaks below for "Neighborhood Watch" below.