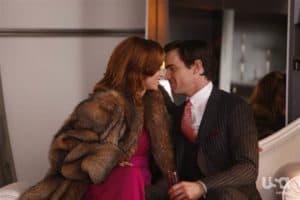 Tonight on White Collar the team take on an expert hacker who has robbed a bank with an electronic method and has drained thousands of accounts including Sara's (Hilarie Burton). To combat what seems like the perfect bank heist, Neal (Matt Bomer) assumes the identity of the criminal to try and lure the hacker out of hiding by having a spending spree with the stolen cash.
What kind of spending spree is it? One that involves a hefty $100 million so expect an excellent montage of Neal and Sara being as decadent as they possibly can. It looks like a plan that only Neal, Sara and Mozzie (Willie Garson) are concocting so it will be interesting to see what Peter (Tim DeKay) will have to say on this method of drawing out the criminal.
As Sara is one of the hacking victims and she is having apartment construction issues, Neal kindly offers his place as somewhere that Sara can stay. This unfortunately brings up questions of where the relationship is heading. These are asked not by Neal or Sara but by Peter who really seems to relish in making these two squirm. The big question is whether Sara will confront Neal with her discovery last week of his fake Victor Moreau passport and if she does will Neal tell her the truth or come up with a suitable lie?
In other White Collar casting news, he will not appear till the second half of the season early next year but some more details have emerged regarding True Blood resident werewolf Joe Manganiello's appearance on the show. The episode will have a Rear Window feel as Elizabeth (Tiffani Thiessen) becomes convinced that their new neighbor (played by Manganiello) is up to something nefarious. Neal goes undercover to investigate and gets to step out of the suit and the loafers and has to adopt a blue collar appearance and manner. It will be good to see Neal with a completely different persona; will he flounder or relish in this challenge? Entertainment Weekly spoke to Matt Bomer about Manganiello's guest appearance and it turns out that they were at college together, Bomer said that "there were only about 20 people in our class, so we obviously got to become good friends over the course of four years." That would have been a good class to be in.
The title sequence on tonight's episode will be the one that received the most votes in the USA fan poll, which do you think it will be?
Check out the promo below which gives a little taste of the big spending spree that Neal and Sara will be having on tonight's all new White Collar.