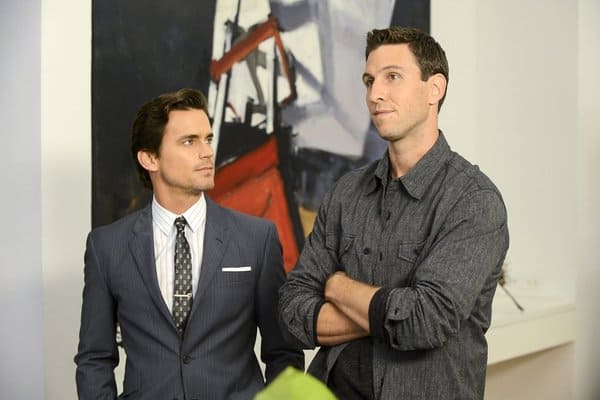 It's the penultimate episode of White Collar's fourth season and the hunt for Ellen's evidence box is heating up. Now they know the building and which floor to search, but it's not going to be as simple as walking into the Empire State Building.
Peter (Tim DeKay) knows that Elizabeth (Tiffani Thiessen) asked Neal (Matt Bomer) to keep him out of the whole key search. It is something that Neal has kept his word to and now there are no secrets between Peter and Elizabeth; but what about Peter and Neal? Peter mentioned that there are always secrets between Neal and himself; these four seasons prove this to be true. This deception has been met with anger and hurt feelings in the past, but this time it seems different. There is now a level of trust between these two characters despite all the lies that have come between them in the past. Their plan will probably work better if they are both on the same page.
To get Neal on the same page, Peter left out a file that contained information of where Ellen had worked in the Empire State Building.  The last few episodes have featured new cases alongside the quest for the evidence box quest and this pattern continues in this penultimate outing. This balance has meant that tension has been building towards the season finale and we've had some fun cases in the process. Tonight we will be entering the world of sculpture forgery and Neal might have met his match.
As you can see from the sneak peek below, it will be sooner rather than later that Peter will reveal that he knows everything and it will be Neal's father James (Trent Williams) who is at odds with Neal over their plan. James has been absent from Neal's life for a long time and Peter has been there for Neal in father/brother type role and so Neal knows that he can count on Peter in a tough situation. Will this cause friction that might thwart their plans?
Watch a promo and a sneak peek for tonight's episode "The Original" below.