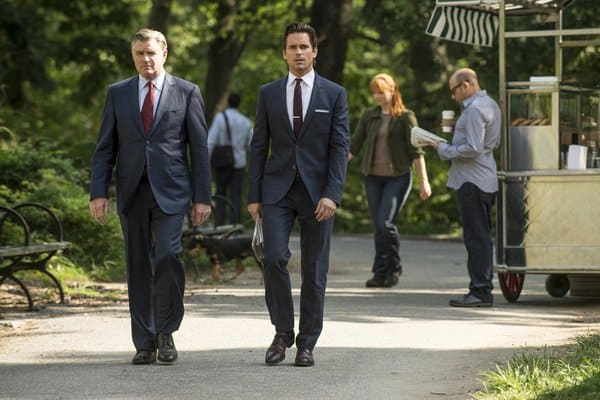 Everything is coming to a head on tonight's White Collar season finale as Neal (Matt Bomer) and Senator Pratt (Titus Welliver) both know where Ellen's evidence box is. It's a race that could turn dangerous as we have seen what Pratt is capable of. Who will get to the box first and what will the information inside reveal?
Emotions were frayed last week when James (Trent Williams) asked Neal why none of his artwork is original pieces, despite how talented Neal clearly is. Neal explained that to be an artist, you have to know who you are and thanks to his past he still doesn't really know. This box could be the key to this and as you can see in one of the sneak peeks below James has a theory about why Neal wants to see what is inside the box. James is not ecstatic about Peter's (Tim DeKay) involvement in the plan and Neal not subtly pointed out that Peter has been there for Neal while James has been absent from his life.
At the moment they believe that they are one step ahead of Pratt in their search and even though they suspected that their new boss Agent Amanda Callaway (Emily Procter) is in Pratt's pocket, they didn't expect her to get the data off the piece of equipment they thought they had wiped clean. Callaway phoned Pratt at the end of last week's episode to reveal the location of the box, but is she completely aware of the crimes that Pratt is committing?
It has been said on countless occasions that White Collar uses their New York location to their advantage and tonight they will be using one of the most famous settings; the Empire State Building. This is the place where Ellen has hidden the evidence box and so all efforts will be put into retrieving this box. The iconic venue will not only be where the action will take place, but Neal and Sara (Hillarie Burton) fans will also get a romantic treat.
Will Neal find the answers he is looking for?
Watch a promo and two sneak peeks for "In the Wind" and to see photos from tonight's White Collar finale click the link below.