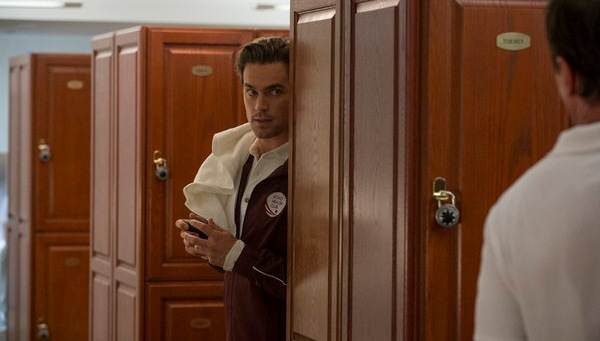 Neal's (Matt Bomer) island adventure did not last long on White Collar and this week he returns to work for the FBI, anklet and all. The one major difference is that Peter (Tim DeKay) will not be working with him as Peter has been reprimanded for his off the books investigation that resulted in finding Neal. How will the team handle being split up once again?
Luckily we have some sneak peeks of tonight's episode "Diminishing Returns" and these show that even when Peter isn't officially working with Neal, he can be coerced into helping with a case, especially when that case is an old one of Peter's. They are tracking David Cook (Michael Weston); a brilliant thief who has eluded the FBI for years and this might be the one chance they have to catch him. As this was Peter's case, he is the expert and he can play an essential role, but will he get caught disobeying orders again? Before the season started Matt Bomer explained that there are moments where Peter "swings further to Neal's side than he's ever swung before" and this could be one of them.
Another major plot that will be explored this season is about Neal's past and his father. Last week Ellen (Judith Ivey) told Neal that she would reveal the truth about his father, but in one of those annoying TV conventions she said it could wait until another time. Time isn't something that Ellen has a lot of in New York as she is getting moved once again in the witness protection programme, thanks to her recent exposure and this surely spells danger. We can expect at least one big revelation about Neal's childhood tonight.
The sneak peeks reveal which department Peter has been reassigned to and it definitely doesn't have the glamour of the White Collar Unit. We will also see what has become of Mozzie (Willie Garson) who decided to remain on the island when Peter and Neal left last week.
How long will Peter and Neal be kept from working together? Are you glad to see the team back in New York? Let us know your thoughts on season 4 so far in the comments section.
Watch a promo and three clips from tonight's episode "Diminishing Returns" below.