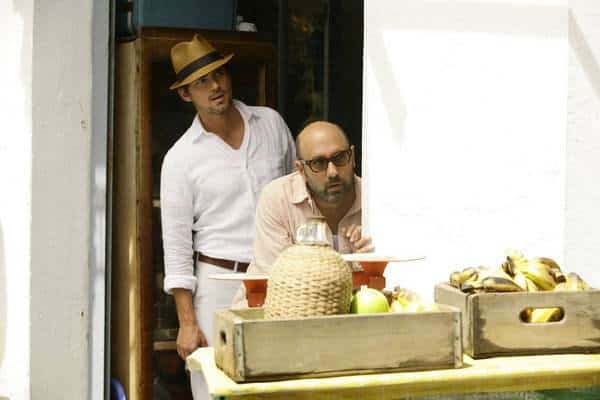 Tonight we return to White Collar and as the USA show enters a fourth season we have a location change as Neal (Matt Bomer) is now a wanted man and is living in a tropical paradise. It won't be all sunbeds and beaches for Neal and Mozzie (Willie Garson) as the FBI hasn't forgotten about Neal and neither has Peter (Tim DeKay); but how far will Peter go to protect his friend?
E.R. veteran Mekhi Phifer joins the cast tonight as Agent Collins; the guy tasked with bringing Neal in and it appears that he isn't opposed to breaking some rules to get his man. Standing in his way is Peter, who is no longer officially on the Neal case, but Peter still has a personal investment in this investigation and pursuit. Peter is taking some time off and a holiday on a tropical island sounds like the perfect way for Peter to get some much needed rest, or to help out his friend. In this sneak peek you can see that Peter is passing on information to Neal about Agent Collins, something that will surely get Peter into trouble if he is discovered.
There is a new love interest for Neal on the island, so Sara (Hilarie Burton) fans look away now. One of the sneak peeks below introduces Maya (Mia Maestro), an owner of a local café who Neal has been pursuing, but so far his charm has failed him. Maya is suspicious of Neal and believes that despite his declaration that he is an 'open book' that he is hiding something. Sounds like Maya is rather perceptive; will she be able to resist the Caffrey charm or will she get caught up in the fugitive drama? The third sneak peek contains a moment that made me so giddy that I don't want to ruin it for you, all I will say is that hopefully the happiness won't be short lived (though it probably will be).
We can also expect to see Neal looking as well put together as ever; the suits maybe a little lighter, with more linen and less ties, but he still has an ever trusty hat to finish off the look. Neal's new place won't have the same cityscape view as his New York pad, but expect just as much artwork and sculptures lying around the joint.
White Collar has always had a cat and mouse element to it, but the manner in which season 3 ended means that there is a whole new angle to this story. The Peter/Neal relationship is central to the show so it will be interesting to see how this dynamic has changed now that Neal is on the run again and that Peter isn't the one pursuing Neal for the FBI. I am really excited for the return of White Collar and to see how that will deal with this change in situation for both Neal and Peter. The key relationships extend beyond just Neal and Peter; will any other members of the team stick with Neal or is their allegiance with their job?
What do you want to see happen in season 4 of White Collar?
Watch 3 sneak peeks below (all 3 contain a 'previously on,' skip to the 1.20 mark to see the new scenes).