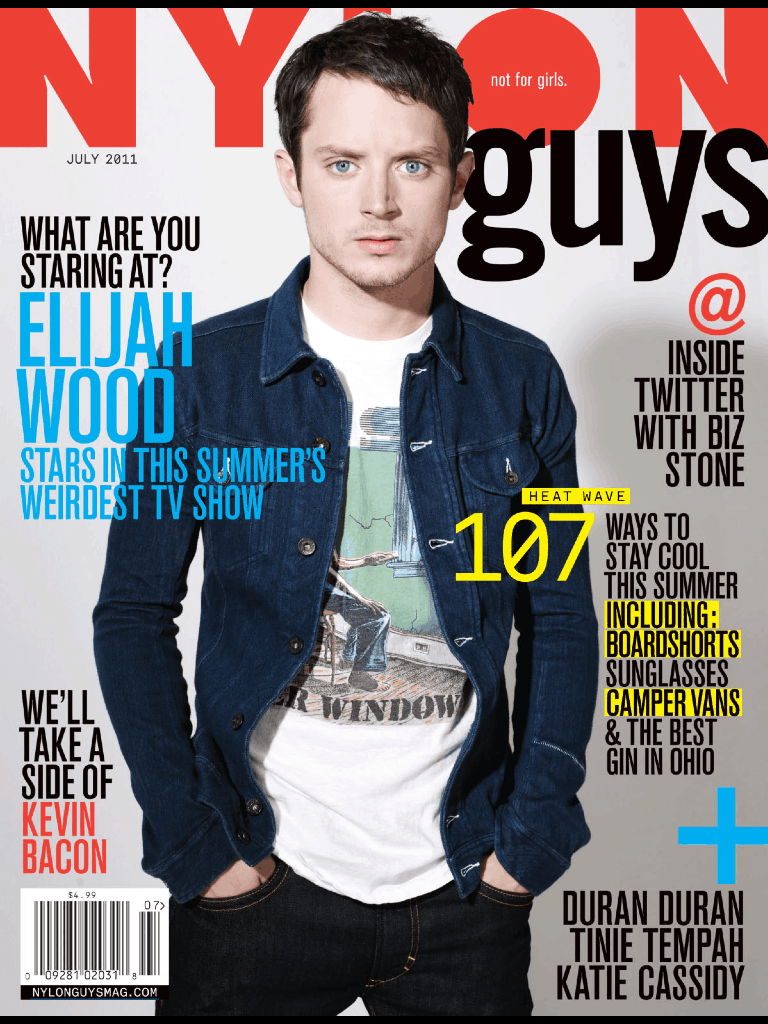 Elijah Wood joins the ranks of film stars that are turning to the small screen for good roles this month in his new FX show Wilfred. To celebrate this new role Wood is on the July cover of Nylon Guys and in the interview explains his reasons for this move to television, which comes after a more than twenty year career in film.
Wilfred is based on the cult Australian comedy of the same name, that features a relationship between a man and a talking, weed smoking and drinking dog. The protagonist of the show, who Wood is playing is called Ryan and is the only one that can see Wilfred in this state, which happens to be a man dressed in a dog costume rather than the normal dog that everyone else sees. Sound bizarre enough for you yet?
The actor playing Wilfred is Jason Gann, who is reprising his role from the Australian version and also happens to be the co-creator of the original series. Gann gives Wilfred his native Aussie accent adding to the wonderfully weird and funny circumstances of the show. When this reboot of the show was announced fans of the original were concerned as is the case when any beloved show is redone for another country. However, the involvement of Gann and the promos that reveal that it is close to the heart of the original have quelled some of these fears. The premise itself is so brilliantly bonkers and is described in Nylon Guys as "Fight Club, meet Harvey, then add bongs" and sounds like it could be perfect summer viewing.
One of the aspects that attracted Wood to the role was that it was a chance to act in a comedy which is something he hasn't done much of in his film work. The other factor was really down to his recent favourite viewing choices coming from television. He talks about how shows such as Mad Men, Breaking Bad, Boardwalk Empire and True Blood are examples of what he is enjoying and how they have attracted some really good actors. He says that he:
"Started to become very intrigued by television, by the idea of doing something of a high quality standard with the ability to expand a character over a certain amount of time."
This echoes the sentiment that was discussed at the drama actresses roundtable that we wrote about last week (and can be found here), where the allure of television is partly down to being able to tell a great story and progress with the same character over a longer period of time. Wood also discusses how in Hollywood at the moment, particularly in film there aren't allowed to be any risk takers, there is a lot of derivative work right now over artistic spirit and this is another factor that drove him to the small screen. He uses the example of Christopher Nolan having to bargain with Warner Brothers with the prospect of a third Batman film just to get the green-light for Inception, even though he had big screen star Leonardo DiCaprio attached to the project prior to this agreement. It is incidents like this that makes the actor refer to Hollywood as being "a very strange place at the moment" particularly in regard to film work whereas in TV with smaller budgets there is more freedom, especially on cable.
I am a big fan of Elijah Wood's work from the epic The Lord of the Rings trilogy to smaller big screen wonders such as Eternal Sunshine of the Spotless Mind and Everything is Illuminated and I am very much looking forward to this move to television, especially with a show like Wilfred which seems suited to Wood's talents. Executive producer of Wilfred David Zuckerman, in discussing Wood's work on the show talks about the feature that Wood has that can often set him apart from others and that is his eyes. Zuckerman says that Wood "can convey so much with a look" and even compares this ability to Charlie Chaplin, who in the age of silent cinema had to rely heavily on his features in his performance to tell a story.
Are you excited to see Elijah Wood on the small screen? Is Wilfred something you will be watching? Let us know in the comments below.
For more on Wilfred watch the preview below which gives a further look at the premise of the show. Wilfred premieres on FX on Thursday June 23rd at 10pm ET/PT and you can pick Nylon Guys up at the newsstands now.