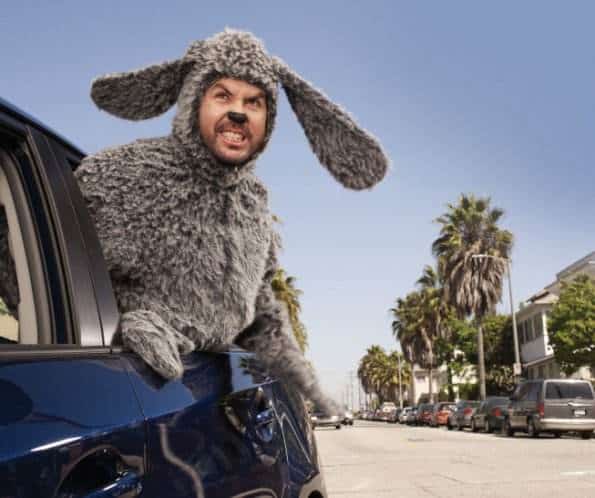 Tonight on Wilfred we will find out why Wilfred (Jason Gann) planted Ryan's (Elijah Wood) ID at the scene of their crime against obnoxious weed growing neighbor Spencer (Ethan Suplee), when he comes around seeking vengeance.
This vengeance looks like it might come from a place of surprise for Ryan, who is aware that his wallet and ID are missing, but not where it has been left or who placed it in this incriminating position. Spencer is likely to be more than angry as Wilfred and Ryan just stole copious amounts of weed and both defecated in Spencer's shoes. Prior to this incident Spencer has been less than pleasant to Ryan and this planted wallet will surely point him in Ryan's direction; what will he do now? Which is why it seems strange that the promo below shows Spencer trying to befriend Ryan by bringing porn and beers around for his neighbor, is he trying to lure him into a false sense of security?
So far Wilfred has sabotaged Ryan twice, once with the placing of the wallet at the scene of the crime, the second time last week when he reacted less than favourably to the trip to the vet and implied that Jenna (Fiona Gublemann) had a penis. What he was actually neglecting to tell Ryan was that she had a boyfriend and we were introduced to Drew (Chris Klein) who looks like he will be an obstacle to Ryan and his affection for Jenna. We talked about Wilfred and his motives after the season premiere and it looks like some of the reasons for why he wants to screw with Ryan will become clearer tonight.
After Wilfred debuted as the highest ever audience for a comedy premiere on FX, the numbers remained strong for last week's second outing; which despite a 13 percent drop still got 3.3 million viewers, with 2.2 million of those in the all important 18-49 demographic. This percentage drop may seem like bad news but it is actually considered a good thing for a show that debuted this well. I have so far really enjoyed these opening episodes that balance tragic comedy with some more crude jokes. The relationship between Wilfred and Ryan may be bizarre but it is wonderful to watch, in part thanks to the excellent chemistry between Wood and Gann.
Have you been watching Wilfred? Are you enjoying this different kind of comedy show?