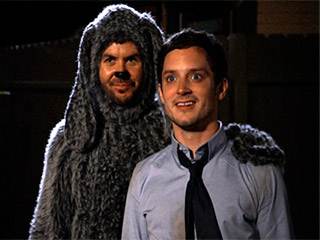 Tonight sees the premiere of the new FX dark comedy Wilfred, the bizarre but brilliant story of a man who sees a dog as a man in a dog suit. So what is the premise behind this quirky tale?
Elijah Wood plays Ryan, a guy who is down on his luck who is about to start a boring job and who has been contemplating suicide. When asked by his neighbor Jenna (Fiona Gubleman) to watch her dog Wilfred this becomes a moment of salvation for him; instead of seeing Wilfred as a dog, he sees him as a man dressed in a dog suit. Wilfred is played by Jason Gann, who co-created the original Australian version of the series with Adam Zwar, which was based on a short film that the two had made. The series was a cult hit in Australia and ran for two seasons, when co-creator Zwar wanted to move on to other projects he gave his blessing to Gann to develop the series in the US. It has been adapted for FX by David Zuckerman (Family Guy, American Dad, King of the Hill) who appears to have stayed faithful to the quirky elements that made the show the cult hit it was in Australia.
This will be Elijah Wood's TV series regular debut and as a big fan of the actor this move to TV is something that I am looking forward to. Wood recently spoke to Nylon Guys magazine (currently on newsstands) and said his decision to do Wilfred was based on the script that he had been sent:
"I read it and was like 'Wow, that is genuinely the funniest thing I have read'. And I'd certainly never seen anything like it on American television before. I'm really interested in things that are strange and unique and difficult to peg, so the idea of being a part of a television show that had the potential to be slightly undefinable was exciting."
Wilfred does indeed look different to anything that is currently on air and begins tonight with "Happiness". It is a new series that I have been highly anticipating in this not so busy summer TV season.
Below are a couple of promos to give you a taste of this wonderfully weird new show that looks set to be a new favourite. Are you looking forward to Wilfred? Let us know your thoughts in the comments below.
Wilfred airs tonight, June 23 at 10 PM on FX.