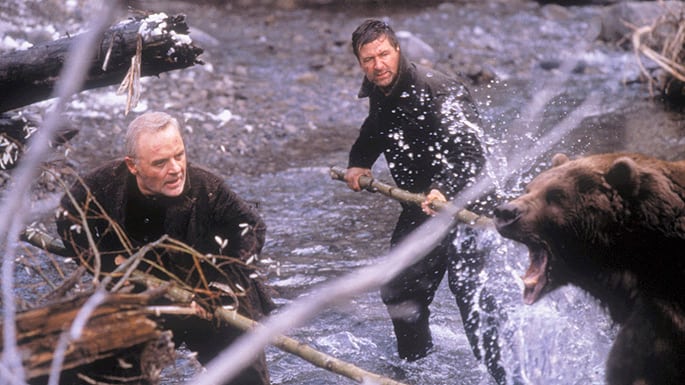 If you both a movie lover and a hunter, watching a movie that is about your passion is going to be a pleasant thing to do when you cannot go after your game. Not only that it may ease your longing for the hunting, but it can also you teach you one thing or two about hunting. Without any further ado, let's take a look at 10 of the most appreciated movies for hunters:
When it comes to movies and hunting, you should only aim for the best experience and not settle for anything less. "The Revenant" is one of those movies that are going to stick with you long time after you've watched them. The story of a frontiersman on a fur trading expedition in the 1820's is both impressive and memorable. The main character struggles to survive after being mauled by a bear (this is one scene that you're not going to forget any time soon!) and left for dead by the other members of his very own hunting team. Using astonishing survival skills (you may want to write down some of them), Glass (Leonardo DiCaprio) is going to try to find his way back home. He's going to struggle to do it without being spotted by natives on their own hunt, which only makes the survival even more difficult. Fueled by vengeance and pretty much shaken with grief, Glass it going through the wintry terrain for finding John Fitzgerald, the one confident and he trusted and betrayed him when out there.
2. The Ghost and the Darkness (1996)
Don't you just love watching a nice hunting movie with an old-time Hollywood favorite like Michael Douglas? The movie is about how an experienced old hunter and a bridge engineer (Michael Douglas and Val Kilmer) begin a hunt for two lions as the animals began to attack some local construction workers. It's a movie about courage, determination and meeting your biggest challenge: two fearless lions that don't give up that easily.
3. White Hunter Black Heart (1990)
Truth be told, we never get bored with watching a Clint Eastwood movie. This one makes no exception and you're sure going to want to find out how a worldwide known movie director that is determined to make his movie in Africa. If you're a true hunter, you're going to understand his obsession for a specific elephant. Have you ever felt that way until now?
4. Out of Africa (1985)
Adding an interesting romance to the story, this famous and highly appreciated 1985 movie gives you the chance to see Meryl Streep and Robert Redford once again. The movie is about a Danish movie that marries a friends and moves to Africa, starting a coffee plantation. As the husband begins to cheat on her, the she ends up by falling in love with an experienced hunter. Apart from a relationship that is challenging and, mostly, forbidden, the movie teaches you a lot about the African culture. Leave your hunting boots at the door, as you may want to get in a different mood when watching this one!
5. Dances with the Wolves (1980)
Kevin Costner may have landed one of his best roles when playing Lt. John Dunbar in this movie. His character is seen as a hero as he leads Union troops (only by accident!) to a victory during the Civil War. He wants a position on the western frontier, but he's going to find it deserted. As he meets a wolf and a curious Indian tribe, he finds out that he's not actually alone. He becomes friends with the tribe and wins the respect of the native people, eventually. Not quite about hunting, but more about one of the greatest awards while hunting: getting in touch with the wilderness.
6. Hatari! (1962)
You cannot call yourself a movie fan until you've seen at least one John Wayne movie. This one is going to help you travel back in time as it was released back in 1962. The movie is about a group of men trapping wild animals in Africa and selling them to zoos. That is until a female wildlife photographer comes in the picture as she is more than determined to put a stop on all the killing. The opening scene (a sharpshooter being gored by a rhino) is going to get you for sure, especially since it becomes the running theme throughout the entire movie.
7. The Hunter (2011)
Martin (Willem Dafoe) is a mercenary and he gets a job from a strange biotech company. His mission? To go to Tasmania wilderness and hunt for the last Tasmanian tiger. It seems that the company was actually interested in the DNA of the animal, which is why the hunter travels alone as a researcher from the University. Once he gets there, the situation gets complicated, and the hunter has to finish the job he got hired for. Or is it not?
8. The Mountain Men (1980)
Have you ever seen a movie with Charles Heston? If not, now you have the chance! The movie is about the numerous adventures of a group of men as they fight Indians, steals squaws and guzzle liquor. And they do all of that as they're searching for a legendary valley.
9. The Grey (2011)
This 2011 movie is about a team of oil workers that, due to an airplane crash, found themselves in the wilderness. One of the 7 workers is a huntsman that becomes the leader of the group. It's a matter of time until the group finds out that they're surrounded by a pack of wolves and the only rescue comes from the woods. Walking through the heavy snow is nothing easy, as they're also attacked and chased by the wolves.
10. The Edge (1997)
A movie that casts Anthony Hopkins doesn't need any more description or suggestions. However, if you're not willing to take the plunge, you may want to keep reading. The movie is the story of an intellectual billionaire and his beautiful wife that get stranded in the Alaskan wilderness with a ferocious Kodiak Bear hunting them down. It all happens because of a plane crash and you're going to have to see the movie to find out how it ends.