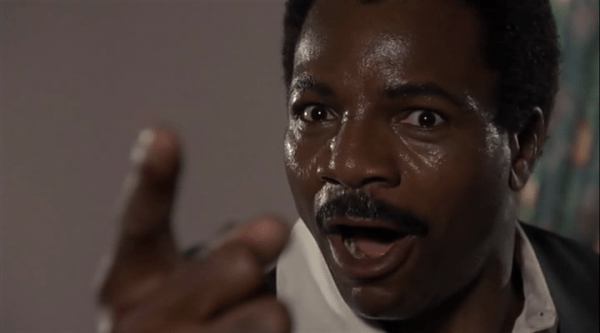 Action Jackson is one of the most common heroic stereotype movies that was ever put on the market, but people have loved it for a while now. It's also one of the movies that Carl Weathers became known for since it delivers hard-hitting and very simple plot lines that don't deviate and are easy to follow. When you want a good action flick that doesn't make you snooze in the middle or wonder just what in the heck is going on or what you missed then this might be a good choice since it's a non-stop rollercoaster ride from start to finish.
Here are a few things you might not have known about Action Jackson however.
10. It was supposed to be a franchise but it never happened.
Despite the reasons this never happened the film titled Dangerous Passion was touted as Action Jackson 2 in some countries to capitalize on the success of the movie.
9. Carl Weathers came up with the idea while on the set of Predator.
It seems a little odd to think about another film while working on a film but Weathers' idea was met with a great amount of approval.
8. There's a scene in the beginning showing the final fight in Rocky II.
As you already know Weathers was the iconic figure of Apollo Creed from Rocky to Rocky IV. He lost the title to Rocky in the second movie.
7. Carl Weather's claimed that this film aged him.
It was a joke for the most part but the rigorous filming schedule left Weathers extremely tired most days and feeling every inch of 39.
6. Two of Weathers' Predator costars are in this movie. 
Bill Duke and Sonny Landham were in this film as well. Even better, when Weathers is walking down the street in one scene several Predators posters can be seen on the wall.
5. Action Jackson has developed a cult following.
It was a hit at the box office but the reviews were largely mixed, and we all know how critics can determine the popularity of a movie. Anyway, it's been a fan favorite for a long time now.
4. Paula Abdul is responsible for the dance choreography in the film.
This was around the time when Paula Abdul was still one of the hottest acts in the business and one of the most sought-after individuals when it came to dancing.
3. Carl Weathers played in the NFL and the CFL before becoming an actor.
This is amusing because Action Jackson is lauded as a high school and college athlete that went to Yale for a law degree but somehow decided to become a cop. It kind of mirrors Weathers' life, but in reverse it would seem.
2. Several of the actors in this movie also appeared in Die Hard.
Dennis Hayden, Marie Ellen Trainor, Robert Davi, and Al Leong are just a few that show up in this film.
1. Weathers appeared in a music video for the theme song to this film.
He Turned Me Out is sung by the Pointer Sisters as Weathers and Vanity play pool.
As far as action movies go this one was very entertaining.