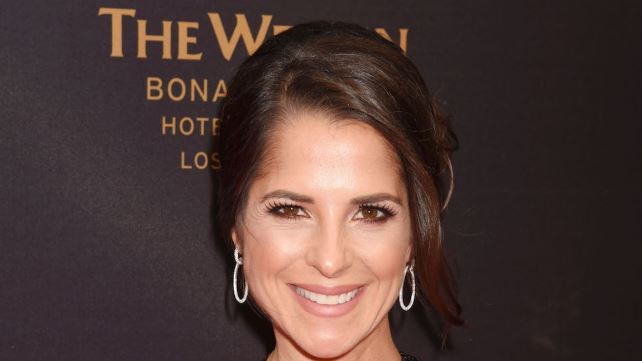 General Hospital's Kelly Monaco is one of those women who is just good at everything she does. She's been on reality television, she's been on the soaps, and she's got one of the best love stories the show has ever seen. Well, that isn't true — it's definitely not a Luke and Laura situation, but it's a good one. She and Jason have been through it all, including her being married to his twin brother thinking that he was her husband. She's everywhere, all the time, and it makes us want to get to know a little more about Kelly Monaco. Here are 10 things you might not already know about her.
1. One of Five Kids
Not only is she the middle child, she's one of five girls. Her parents had five girls, and we imagine a long decade when they were all in or around the age of being teens. Even the best kids turn into kind of crazy teens when they get the chance to reach that age.
2. She Began Acting in High School
Kelly Monaco didn't act as a child. In fact, she only began acting when she took a few classes on the subject in high school. She seems to have liked those classes, though. Perhaps they were the reason she decided to get into the business.
3. She's a Former Lifeguard
We don't doubt that. In fact, we could see her being very Baywatch-esque in her red swimsuit saving lives and taking names all day long. She seems like she's the athletic and responsible type, so we are not overly surprised this was her life after she graduated high school.
4. She's a Former Playmate
One thing you might not know of her is that she's a former playmate. When she began thinking of modeling as a career choice, she decided to go for it with Playboy, and it worked out for her in the mid-90s. She was Playmate of the Month in April 1997, which is not something many women got to say for themselves.
5. She Was on Baywatch
In light of our former comment about seeing her being very Baywatch-esque working as a lifeguard, it's fun to point out her first role on television was on this show. She was on the show in 1997 and 1998. She was Susan, and sometimes she was the body double for Carmen Electra because she couldn't swim and Monaco could.
6. She Was on Port Charles
Before she went to GH, she was on Port Charles, but the show ended and she was moved over to GH. And that's when she began her role as Samantha McCall, and that is when she was put on the road to her successful career. She's got a lot to thank that role for.
7. She Co-Hosted the Daytime Emmys
She was the co-host along with Tom Bergeron in 2006. She was already on the show at that point, she'd won the show at that point, and she was good at it. She's been on the show two times, and her dancing is certainly stellar.
8. She Was with Her High School Sweetheart
She's no longer with him, but she and her high school sweetheart were together for 18 years before they made the decision to end things. They ended their relationship in 2009, which is pretty impressive for someone who spent most of that time working in the acting business. They never wed.
9. She's Charitable
Kelly Monaco is actively involved in many charities, and it's something that is near to her heart. She feels that she needs to give back to those who need her help. She's worked with "Feed the Children" as well as other campaigns to bring awareness and help to those in need.
10. She Had a Reality Show
For a very short moment, reality show cameras followed her around as part of a daytime series called "Dirty Soap," on which she was first going through her major breakup after 18 years together. She was with her friend and co-star Kirsten Storms, who convinced her to burn her prom dress from when she and her ex went to school together.