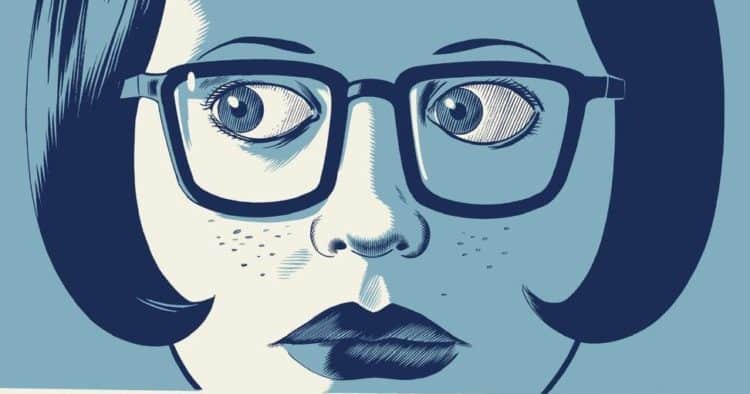 It's rare for a piece of literature to truly capture any particular culture. It could be a specific time in history or a certain cultural mentality or philosophy. There are a few triumphant examples in modern literary history, but it's even more rare for a graphic novel to achieve such status. Daniel Clowes created something unique with his work, Ghost World, which was serialized in issues #11-18 of his comic book series, Eightball. This graphic novel was so fascinating that a movie had to come out from it. If you're familiar with the movie and not the graphic novel original, here are 10 things that you probably didn't know about the Ghost World comic series.
1. It was somewhat autobiographical.
It may be difficult to imagine given that the author of the graphic novel about two teenage girls was actually a middle-aged man when he wrote the stories. Daniel Clowes' highly successful Ghost World may have used young, female characters, but the principles for Clowes remained the same.
2. Enid Coleslaw was Daniel Clowes.
We already said it was autobiographical, so it only makes sense that Enid Coleslaw was really Daniel's representation in the story. It also helps to know that Enid Coleslaw is an anagram of Daniel Clowes. If you hadn't figured that out before, you might realize that it makes much more sense now.
3. Enid's departure might be a metaphor.
As the two friends grow apart in the story, we see Enid leaving at the end with just one suitcase in hand. She boards a bus that's marked "Not in Service," and we never see her again. Some say that this might represent Enid's suicide, and Clowes said that it might very well be true.
4. The girls make a cameo somewhere else.
Later on, Enid and Rebecca both make cameo appearances on another one of Clowes' collection of comics, Pussey. This comic series centers around the title character's life as a superhero comic book artist, and Enid and Rebecca made appearances as older ladies going through Pussey's possessions after he died.
5. Ghost World could be Chicago.
While Clowes intended for Ghost World to be anywhere in the suburban world, there's a good chance that Ghost World is actually in Chicago. Clowes said that the he saw the name scrawled on a building somewhere in the city, but the entire graphic novel could've been a representation of that city altogether.
6. The colors represent twilight.
There's a reason why the entire graphic novel is drawn and painted in pale blue. Clowes wanted it to be reminiscent of twilight when he'd walk home and walk by every single household in the neighborhood. All the houses would have that ghostly blue color due to the light coming from the television screens.
7. Ghost World influenced music.
This comic book was the influence for an Aimee Mann song of the same name. The song was produced in her 2000 album, Bachelor No. 2. In the song, Aimee Mann sings as someone who had just graduated high school. This person is ready and rushing to get out of wherever town she was at.
8. Enid had dolls made of her.
It might be a testament to how successful the graphic novel had become, but it was surely something that the character Enid probably would've laughed about. Enid actually had three different doll versions made of her character. One of the dolls was depicted exactly as she was in the comic books, with accessories and all.
9. There's an orange Eightball.
Here's a trivial fact that only fans of the comic series would know. While most of the comics were printed in a blue tone, Eightball #16 actually came out with an orange tone instead of blue. This was purely a result of a printing mistake, but it has since become a trademark for the series.
10. You're either a fan of the comics or a fan of the film—never both.
It seems that fans of the comic book series are rarely fans of the film. Many argue that the film didn't portray the exact jaded nature of the comic book. It's probably virtually impossibly to do so. But if you were to choose one medium to get to know Enid and Rebecca, you're probably better off meeting them in the books.