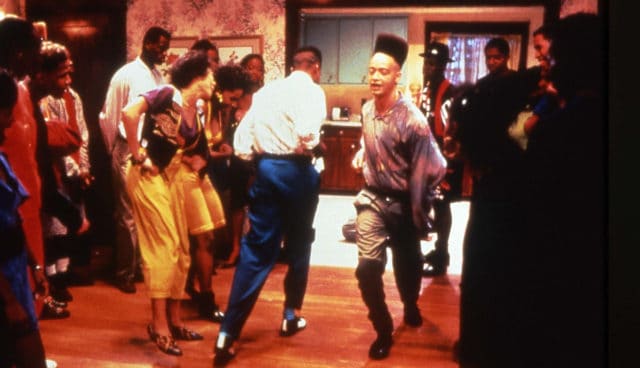 House Party is one of those films that you should watch at least once when there's nothing else on and you just want to laugh for no good reason. It's a different kind of comedy really but it's still something that hearkens back from the good old days when hip hop was a lot more fun and a little more raw. Kid N Play were a big thing back then, but unfortunately this kind of marked the ending point of their fame since not too long after they started fading out. Up until this point and throughout the movie however they're absolutely hilarious and manage to lay down some sick moves and create a film that's nothing short of awesome.
Here are a few things you might not remember from the film.
10. The dancing was done without music.
All the dancing was done ahead of time and the music was added in later.
9. This film was originally supposed to be for DJ Jazzy Jeff and the Fresh Prince.
Their roles in this film were supposed to be part of a punishment for their unauthorized parody of Nightmare on Elm Street.
8. There was a lot of improvisation in the film.
The character that played Pop was one of those that improvised the most, he was a standup comic and was used to delivering his lines on the spot.
7. This was based on a short film created by the director.
It was part of his thesis when he was still in college and eventually it was deemed good enough that it was picked up as a movie.
6. It helped a lot of young actors get noticed due to their cameos.
If you look throughout the movie you'll find a lot of notable actors that went on to star in other films and TV shows later on.
5. It's been considered a cult classic.
It's popularity kind of came and went very quickly but after a few years had passed it got popular again with the next generation.
4. The actor that played Pop passed away nine days after the release.
He managed to star in House Party and Mo' Better Blues before he passed away.
3. Kid N Play were backup dancers for Salt N Pepa.
This goes a long way towards explaining just how they became so good at the signature moves that helped create their fame.
2. Robin Harris used one of his lines from his stand-up comic days.
Considering that Harris had been on the stage many times before and knew how to spout off a line when he wanted to the director kind of let him have free reign when he used the term 'test tube baby' on one of the party-goers.
1. It was one of Martin Lawrence's early appearances. 
Martin Lawrence has since become a very well known and respected actor and has starred in his own show and several movies.
House Party spawned a few sequels but they never really attained the same level of fame as the first one.