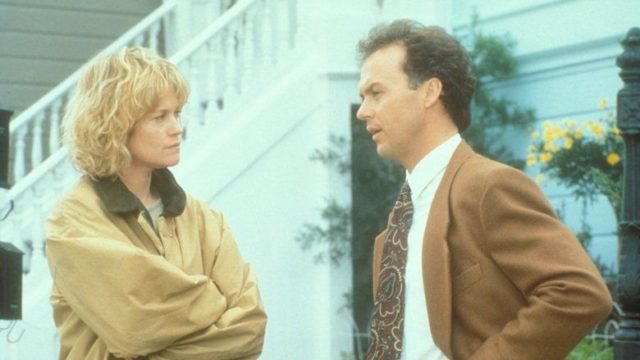 Pacific Heights is a great example as to why you always run a credit check on a prospective renter when you're a landlord. This way you can hopefully avoid coming across a person like Carter Hayes that's going to do whatever he can to ruin your life. However with two individuals who are obviously new to the renting game Hayes hits his payday as he not only provokes the couple into the actions he needs to ruin their lives, but also taps into their financials and begins to dig even deeper. Thankfully they don't take it lying down and manage to turn the tables on him, which eventually leads up to a final confrontation that was about the only way this could end.
Check your renters carefully.
10. Carter was bisexual in the original script.
He was also a lot more aggressive in the beginning towards the couple. It does seem a lot scarier that he took his time however.
9. The film was inspired by a true story the screenwriter went through.
At one point the screenwriter had a tenant that he couldn't get rid of either. Sometimes it's hard to get anything done when the tenants know their legal rights and tend to find the loopholes that allow them to act like jerks.
8. The home in the movie is not in Pacific Heights at all.
It's actually across town in the Petroro District. The act of pretending that it was in Pacific Heights though makes it seem much more upscale.
7. This is second consecutive movie in which Keaton played a deranged individual.
He played a mentally unstable person in the Dream Team as well, but thankfully that was a comedy.
6. Keaton and Modine have both been in Batman movies.
Keaton was in Batman and Batman Returns while Modine didn't make his appearance in Batman until The Dark Knight Rises many years later.
5. Patty's full name is either wrong in the credits or the movie.
Both the police officer that speaks to her and Carter Hayes say her last name wrong, so it's either wrong in the movie or in the credits. It seems like it might be the latter really.
4. Melanie Griffith didn't care for this movie that much.
For some reason she got a bad feeling about this film. But she went on to star in another film only days after this one wrapped up so it might have passed quickly.
3. The films leads all have names that start with the same letter.
Melanie Griffith, Michael Keaton, Matthew Modine. It would take someone who really knew what they were doing to set that one up, otherwise it would have to be on accident.
2. There's a Soundgarden video on TV when Hayes attacks Drake.
For those of you that remember, Soundgarden started ramping up their career big time in the 90's.
1. This was a rare horror movie for the director. 
Everyone steps out of their comfort zone eventually, so this was probably a nice exercise in doing something different for John Schlesinger.
It makes you think twice about who you rent to though.