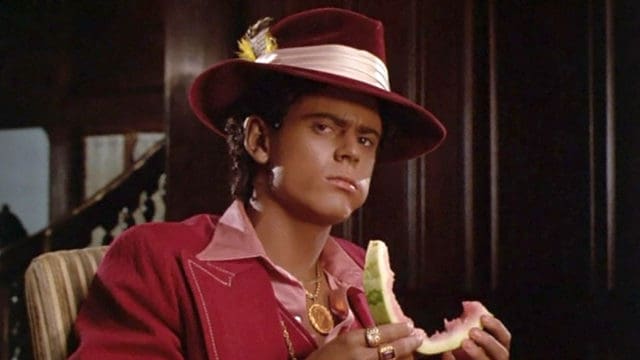 Soul Man might go down in history as one of the most offensive movies ever made but it will still be considered as one of the funniest. C. Thomas Howell, a star in his day, plays a student looking at a chance to attend Harvard Law School just as he's always wanted. Unfortunately his father decides that now is the best time to make him learn how to pay for things on his own, and decides to let him foot the bill for his own schooling. Figuring out just what this costs he quickly discovers that his dreams could go up in smoke if he doesn't figure out something quick.
Upon finding a scholarship that would help to pay for his tuition he notes that it is for black students only. So of course the most natural thing, in the 80's, would be to find a way to turn himself black right? Once he does he finds out that being black in America in the 80's is not as simple as he thought. Eventually he gets found out and has to repay the scholarship, and as the film ends is shown going to work to pay for his tuition.
Apart from all that, here are a few things you probably didn't know about the movie.
10. C. Thomas Howell and Rae Dawn Chong actually got married after this movie.
It kind of makes you wonder if they were already together when it started or if sparks flew and angels sang during the making of the film. A lot of Hollywood couples have met on the set and then gotten together, but only a few have ever gone this far.
9. Ronald Reagan's son Ron has a part in this film.
Like father like son perhaps? He did a fairly good job despite not having a huge role.
8. One of the players in the basketball game was in the Outsiders.
Daryl Dalton was in the iconic move as Randy, one of the Soc's.
7. Julia Louis Dreyfus has a role in this movie.
She plays the annoying friend and doesn't have a lot of screen time.
6. Rae Dawn Chong is the daughter of Tommy Chong.
That's right, the same Chong from Cheech and Chong. He'd be an interesting father for sure.
5. The writer of this movie went on to become an executive producer of the Wonder Years.
Carol Black wrote Soul Man but would eventually move on to bigger and better things.
4. Soul Man was filmed in Massachusetts.
It was filmed completely on site.
3. There's a scene in which you can see Sarah going outside to see the snow. When she slips you can see the ground slipping out beneath her.
It was a blooper that wasn't meant to happen but it was also used as a safety measure.
2. There's a banner saying Harvard Class of '89 when the guys get to school. This movie was released in 1986.
Unless there was time traveling in the movie we didn't know about someone got the banner wrong.
1. Four years of Harvard Law School in the 1980's is about the equivalent of a little over half of what it would cost now.
One year in Harvard is upwards of $90 or more.
To be honest I'm almost glad that this movie is all but forgotten. Personal opinion keep in mind.
Save