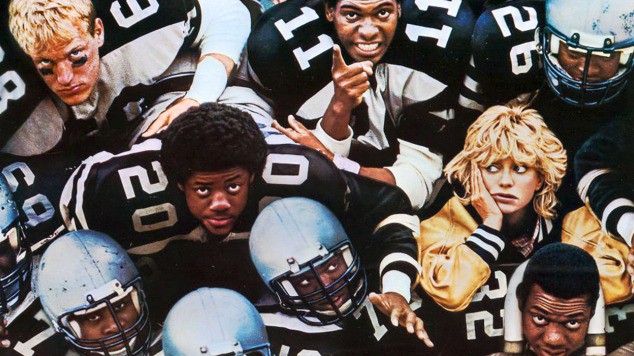 Wildcats is the story of a woman that wants to show that she has what it takes to coach high school football. When the guys see their new coach however they're bound and determined to show her just how things work and attempt to get her to quit. Despite the hardships and drawbacks of taking on a coaching position that's usually reserved for a man she eventually wins them over and shows them that a woman can do just as good of a job as a coach as anyone can. The film has been largely forgotten by a lot of people but it was one of the more inspirational movies of its time.
Women can coach football too after all.
10. This was the film debut of Woody Harrelson and Wesley Snipes. 
Up until then and even after this both men weren't all that well known for a while. Once their careers took off though everyone knew about them.
9. The team parodies the Superbowl Shuffle.
For those football fans that remember this game it was when the Bears won the Superbowl in 1985.
8. LL Cool J had a song that went with the movie but was never released on the soundtrack.
That's kind of irritating to fans and to the musicians since during the movie such songs can really be inspiring and uplifting, or even just entertaining.
7. This is one of four movies that Wesley Snipes and Woody Harrelson starred in together.
They starred in three others, White Men Can't Jump, Money Train, and Play It to the Bone. They've got a pretty good onscreen chemistry going despite the fact that their characters are always at odds with each other.
6. This film was shot during the summer.
The actors were directed to wear warmer clothing to simulate a more wintry atmosphere since unless it's football camp a lot of teams won't practice until late summer to early fall.
5. The stadium scenes were shot in Chicago.
The stadium scenes took place at Lane Technical High School in Chicago.
4. LL Cool J had a brief cameo.
You'd really have to look for him but he's on stage in the gym when Alice drinks the spiked punch. It's a kind of there and gone moment that you really need to look for.
3. It wasn't the most popular film but it wasn't the worst.
It was panned by critics and the audience alike and some had trouble thinking that a white woman had to come in basically save the program that was dominated by young black men.
2. This is one of three movies with a one-word title that Goldie Hawn has starred in.
The other two are Protocol and Overboard. The latter has been given a remake starring Anna Farris and will be out in theaters soon.
1. This was Ann Doran's last film.
The actress starred in over 500 productions and 1,000 TV episodes so she's more than worth noting for her contributions to the movie and TV industries.
In all honesty this film was something special just because it showed the breaking down of a gender barrier.