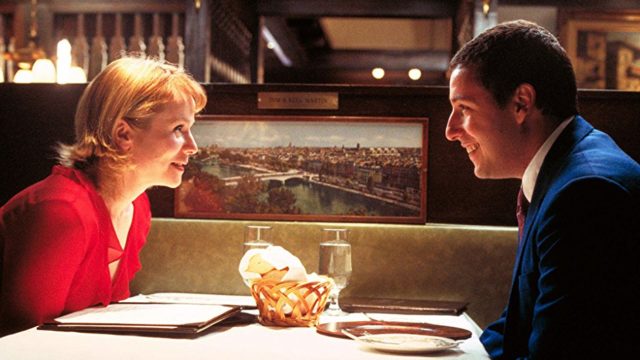 Punch Drunk Love is essentially about a man that is so depressingly lonely that he despairs over ever finding a woman that he can feel comfortable with and share his life with. When he attempts to call a sex line the operator then attempts to extort money for him, and then sends a four thuggish brothers over to collect. Â Throughout all of this Barry is attempting to kindle a relationship with a woman that works with one of his sisters and doesn't want her to find out about the sex line he called. Eventually however a confrontation with the brothers is inevitable and he breaks down and tells her. She ends up staying with him and the two presumably live happily ever after.
It's kind of a sappy story but it made sense to a lot of people.
10. It's considered one of Sandler's more artsy films.
For a guy that's known more for crude humor and an uncanny ability to make people laugh this film was one of many he's done now that is not geared towards comedy.
9. At certain points the camera bumped into something in front of it while tracking Sandler, on purpose.
The first time it happened while the camera was tracking after Sandler and it was an accident. The director liked the effect so they kept doing it occasionally.
8. The four blonde brothers that harass Barry are brothers.
It would certainly help if you had someone you knew onscreen with you so that you didn't feel so awkward. This way you can act natural and not slip up as much.
7. Sean Penn was initially supposed to be a part of the cast but he bowed out.
It's not really certain why he had to bow out but there could have been a scheduling concern or something else could have come up.
6. When Barry says "Everything is food" this is a typo that the director wanted to keep.
The line was supposed to go "Everything is good", but something got messed up in the script. Obviously the director kept it in though.
5. All the credits and titles appear at the end of the film.
That's fairly unusual since the audience is usually inundated with credits and titles from the moment the film opens up.
4. Only two of Sandler's friends appear in this movie.
Usually he has a few friends in the film in some capacity that keeps them close to him. This time there were only two and they were fairly limited in their roles.
3. This was the first Adam Sandler movie to get the thumbs up from Roger Ebert.
A lot of times Sandler's movies have been so over the top that critics have had no trouble just lambasting them for days on end.
2. Barry is obsessed with pudding cups for much of the movie. 
There are worse things to be obsessed by but this was definitely strange. He was fond of pudding cups in Billy Madison too.
1. John C. Reilly was set to star in the movie but decided not to. 
He took a look at the character he was going to play and decided against it, thinking that fans wouldn't understand why he was there.
If you're expecting this to be comedy then change your expectations before watching it.