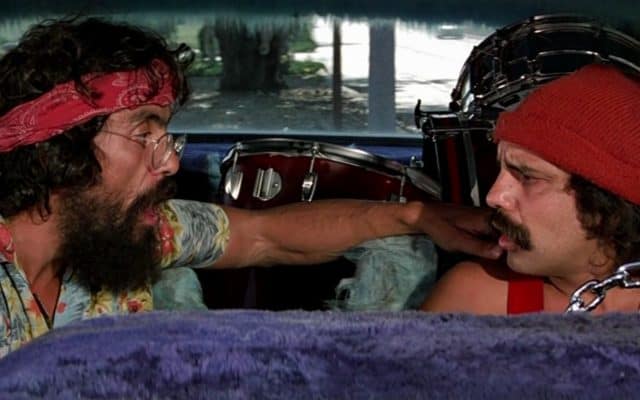 Up in Smoke turned 40 years old this week, and honestly it's just as funny as it was when it was first released. In case you don't know the story, Man and Pedro were just looking to score some marijuana through most of the movie but ended up being chased by cops, arrested and then let go, deported to Mexico, and then caught up in a drug-smuggling operation that had them driving a van that was composed entirely of weed. On top of that they entered a music competition and won while stoned to the gills. It's a classic movie really, and one that you should at least watch just once if you never have.
Cheech and Chong were just awesome in their day.
10. Jack Nicholson owned the car that Tommy Chong drove in the beginning of the film.
Obviously it was in much better shape than it appears in the film, otherwise you can imagine it might be seen as a heap.
9. Nicholson got a kick out of this movie.
He was given a private screening of the film when it was done. He'd just been in a car accident recently however and suffered a dislocated shoulder, so it hurt to laugh. He was reportedly in pain for a good deal of the movie.
8. The word 'man' is used about 292 times throughout the film.
It's used over 200 times before Cheech and Chong even get to the Mexican border.
7. The extras playing the Hare Krishna's all shaved their heads for $25.
That kind of money must have gone a lot further back in the day. Or it could have been that they were struggling actors trying to make what they could.
6. The Ajax lady had a tube concealed in her hand when she snorted the drugs.
Some people used to snort powdered milk or other supposedly harmless substances, but when they could get away with it this was one of the best solutions. There was a vacuum attached to the tube.
5. Cheech and Chong had been a comedy duo for around ten years before making this movie.
If your comedy act is good enough to entertain people and bring in a crowd then it might be time to at least think of doing a movie. They might not have attained their fame through their moves but the idea of them being a cult classic is easy to accept.
4. Beavis and Butthead was partially inspired by Up in Smoke.
Mike Judge admitted this to Cheech and Chong when he was hanging out with them one day, and you can kind of see it.
3. Some of the Mexico scenes were filmed in Los Angeles.
It could have had something to do with permits or it could have been easier to stay on one side or the other for certain shots.
2. This was Ellen Barkin's theatrical debut.
She went on to have a stellar career after this, but it's interesting to remember that she's in this movie.
1. This film was banned in South Africa.
It was believed that the use of marijuana in the movies might encourage people to start smoking marijuana in real life.
Because you know movies simply tell us what to do.