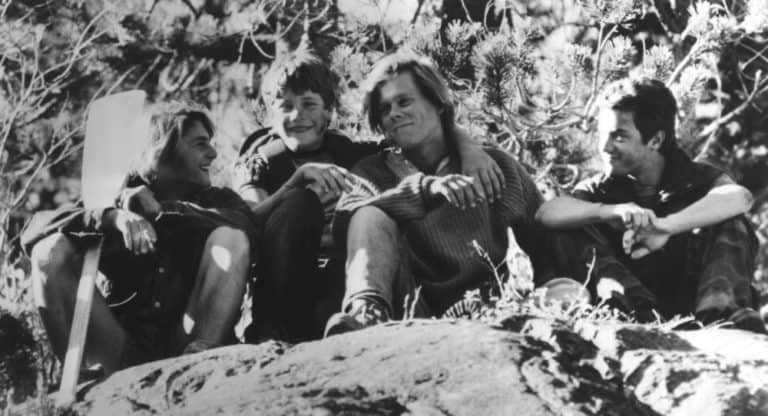 White Water Summer is about the learning experience that goes on between Alan and Vic. While Alan is headstrong and doesn't want to listen to Vic, who is an experienced guide and the guy that's supposed to be teaching Alan how to have fun, the lessons that are imparted go kind of awry when the situation heats up between the two of them. When Vic breaks his leg however it's up to Alan to get them both back to civilization safely, where it's easy to assume that he won't ever go camping again. The entire movie is about a learning experience and is a kind of coming of age story that was entertaining for its time.
I remember thinking that Vic was kind of a jerk at times.
10. The film was shot in two different years.
The initial film was shot two years before the narration scenes so as to give Sean Astin the look of having grown up a bit since the camping trip.
9. The film is dedicated to its director of photography.
He passed away before the movie was released so this was dedicated to his memory. He was a frequent collaborator with director Stanley Kubrick.
8. It had a different title to start with.
The original title was Rites of Summer. Why it was changed isn't exactly clear but it might not have gained any more attention had it been left the same.
7. Chris is the only one to swing around the rock without a harness.
Vic grates on everyone else to wear a harness but doesn't seem that concerned with Chris. Of course it's Alan that he's really having a problem with most times.
6. It received a 29% on Rotten Tomatoes.
This is, as usual, easy to ignore since Rotten Tomatoes tends to score most films a lot lower than people would normally think they deserve.
5. The swing bridge was built specifically for the film.
It was built somewhere in New Zealand, which is one of the locations that the film is shot. Even when it's supposed to happen, the idea of a rope bridge giving way is terrifying.
4. The film is shot in various locations.
It's shot in the Sierra Nevada mountains, various parts of Canada, and in New Zealand as was mentioned above. The scenery is easy enough to recognize if a person has ever visited said locations.
3. It came out to mixed reviews.
It could have been the fact that Kevin Bacon was viewed as kind of an aggressive jerk to the boys, or it could have been that the whole thing seemed like a camping trip gone wrong rather than a coming of age film.
2. Despite the mixed reviews a lot of people rented this movie multiple times.
It got more attention when it came out on video than it ever did in the theaters, especially now when it pops up now and again.
1. It was released primarily in the Pacific Northwest.
It was meant for a wider distribution but it never got that far since the reviews weren't that great. Eventually it just faded out.
For those that live in the PNW it's a great movie in many ways.