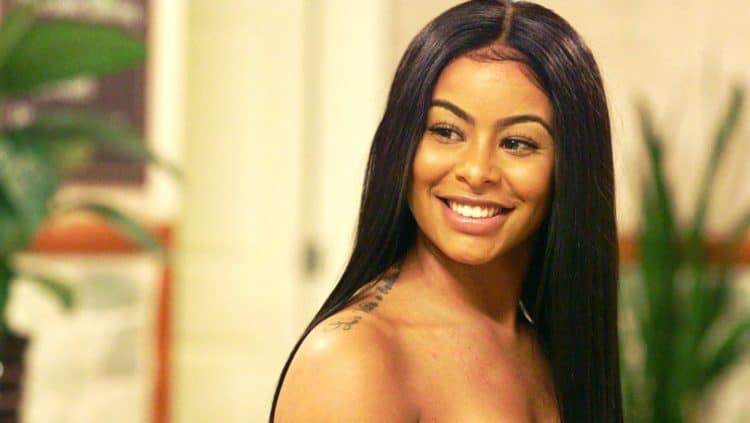 We come to the world with a clean slate and then start filling it up with our actions. Some are lucky to have a clear path defined by destiny, but some of us have to deal with all the curveballs the world throws at us until we come out victorious. Without a level playing field, the world has become a battlefield, and everyone is trying to prove themselves. Unfortunately, while some climb the ladder without trampling other people, others drag down whatever or whoever they come across. Alexis Skyy has been in the limelight mostly for all the wrong reasons; if it is not baby daddy drama, it is about the poor life choices she is making. However, someone said we should not judge anyone without understanding what they had to go through to get to where they are. So, before any more stones are thrown at Alexis, an insight into what she is all about might help you know why she does what she does.
1. Alexis' Daughter was born with hydrocephalus
Alaiya, Alexis' daughter, was born with hydrocephalus and had to have a shunt implanted in her brain to drain the fluid and blood in her brain. Alexis, however, was mum about her daughter's condition and donned her with caps and other headgear. It was not until November 2018 that she posted on Instagram Alaiya suffered from hydrocephalus. Alaiya underwent brain surgery in January 2019 to correct a malfunction of the implanted shunt as Alexis took to her Instagram account to ask fans for prayers.
2. Alexis welcomed her daughter three months before the due date
Alexis Skyy brought Alaiya into the world on 4th January 2018 which was three months before her due date. The premature birth led to allegations that Alexis did not know who the father of her baby is despite claiming that Fetty Wap is Alaiya's biological father.
3. Alexis is currently dating Rob Kardashian
Although Rob has not yet confirmed the rumor that he is dating Alexis, she has done so herself through social media. Alexis is enjoying the good life as Rob's girlfriend as he continually splurges on large flower arrangements, designer clothing and luxurious spas in Los Angeles.
4. Alexis claimed her Ex, Solo Lucci, was using Alaiya to get fame
The rumors that Alaiya could be Solo Lucci's or Fetty Wap's caused Alexis to set the record straight on who her baby daddy is. Earlier on when Solo Lucci was told Alexis was pregnant and asked if he was the father, he replied that he did not know and most probably even Alexis did not. So when rumors started going around that he could be the father yet he did not deny it, Alexis said Solo was only trying to get some clout from the allegations. She even added that Fetty had not yet claimed Alaiya as his due to the rumor and Lucci had no place claiming to be Alaiya's father because he did not even sign her birth certificate.
5. Alexis had a sex tape
Alexis and Fetty Wap made a sex tape which was leaked in January 2017, and each of them claimed the other leaked it. While Malika, Fetty's ex-girlfriend had once said that Alexis wanted desperately to be like Kim Kardashian, she could have been talking about the sex tape which propelled Kim to fame, and it did the same for Alexis.
6. Alexis is an entrepreneur
Alexis opened Bella Sky Spa in Atlanta Georgia in June 2016 and whose grand opening was done by Skyy Level Media and Skyy Communications. The spa had an extensive range of services including make-up, skin enhancement, massages, and facials. Unfortunately, it closed down later, and now Alexis owns Curves by Skyy, a fashion line.
7. Alexis works at a strip club
While she claims that she was formerly a stripper, Alexis was spotted twerking in a strip club barely two months after giving birth to her daughter. People expressed their hate for her actions on Instagram, but she defended herself saying she was only doing what she needed to provide for her baby. Alexis added that she was not neglecting Alaiya since she made time to see her every day.
8. Alexis met her dad when she was 18
Alexis was raised by her grandmother and mother in Amityville New York where she grew up alongside her brothers. She never got to meet her dad until when she turned 18.
9. Alexis is in a social media feud with Malika Kalysha
Alexis became bitter after finding out that Fetty Wap, her daughter's father, had impregnated another lady, Malika Kalysha. Still, despite breaking up with Fetty, Alexis has continued engaging in a social media battle with Malika, and it goes on to date.
10. Alexis has many half-siblings
Alexis grew up with brothers, but her father has had multiple romantic relationships with different women which have led to Alexis having several siblings, mostly sisters. Some of them include Eliza and Lauren.