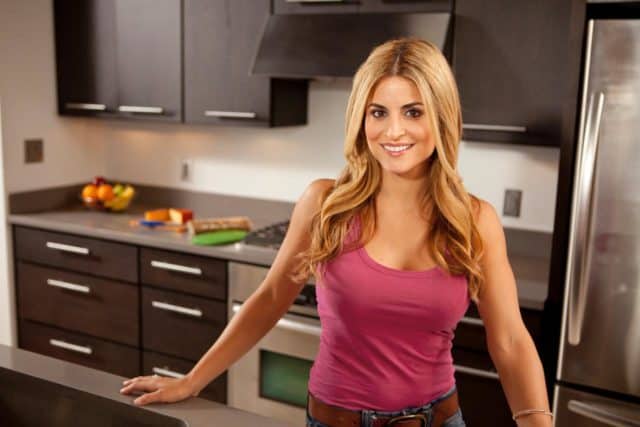 Unless you watch a lot of HGTV there's a good chance you might not know about Alison Victoria all that much since she tends to hang out on this channel quite a bit considering that it fits her skill set the best. When you watch her work and really get into a project though you'll figure out why since she is quite talented at what she does and is able to turn something that might seem like a hopeless wreck into a project that looks like a cool million bucks afterward, if not more. Her role as an interior designer is something she takes quite seriously even as she has a great deal of fun at it, taking something that looks like nothing and turning it into something that many people would love to have. Her skill at this point in her career has managed to land her in many a job that has seen fit to increase her reputation again and again.
Here are a few things you might not have known about Alison.
10. If you didn't know she's big into renovations on HGTV.
This has been her main drive in life and one of the only things she's ever considered doing it seems since she's quite good at it and she's always taking on projects that seem like they'll swamp her in costs and troubles. But somehow she makes it through.
9. She does own a design firm.
This only makes sense considering that as her skill rose so too did her reputation. Eventually those that are doing so good feel the need to go out on their own and experience their own foray into the business world. So far it seems that she's done rather well.
8. There's been a small amount of discontent with her efforts to upgrade parts of Chicago.
Apparently a group of residents actually came up with and signed a petition speaking out against some of the renovations she was doing, saying that they were somehow wrecking the neighborhood. Some folks don't like change that much, but when they saw what she'd done the petition was kind of forgotten.
7. She's a graduate of UNLV.
It's amazing how far people will travel to go to school since she's a Chicago girl and made her way all the way from Illinois to Nevada. You might think it's not all that far compared to some journeys but from the climate to the lifestyle there's a lot of differences.
6. Alison has overseen the renovation of an entire hotel's interior design.
Being in Vegas you could only imagine that her eyes were growing a bit bigger when she was thinking about interior design, and it wasn't too long before a hotel gave her leave to take over their interior design project, which was worth millions upon millions.
5. She splits her time between Las Vegas and Chicago.
It would seem that she's found a place in her heart for Sin City, which isn't hard to imagine since the bright lights and the commercial opportunities that are likely always popping up would offer a lot of chances for her to continue her business.
4. Her current net worth is around $4 million.
This seems a bit low considering all she's done in her life, but then a lot of this comes from the shows she's done on the channel. Still, considering the many jobs she's taken on since becoming a part of the HGTV Channel one might think that she'd be worth just a little more. Maybe her net worth is still bound to rise.
3. Alison hasn't dated a lot in her life.
The obvious reason for this is that she was probably pretty busy for a while when she first got started and didn't really give it much thought. As of now though it sounds as though she's married and doing quite well.
2. She's an obvious inspiration to many interior designers.
There are likely a lot of people that look to her and many others when it comes time to decide what they want to do with their own home and those of the people they work for. After all if you want ideas on what to do the experts are usually the people that we look to in order to get some kind of inkling on what's trending and what people might want to see.
1. Alison has been in a few shows at this point.
When it comes to HGTV she's not a rookie as she's been around for a while. The main reason she might not be so well known could be that the show and the channel aren't hyped nearly as much and are kind of a niche for those that are really into renovations.
It is a lot of work after all, so it might be favored more by those that actually want to learn how do a few things.