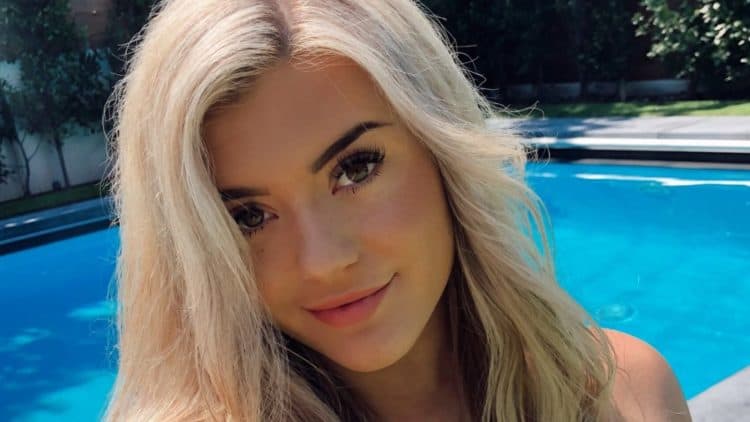 Since its inception, gaming has been a male dominated world. Not only are there far fewer female gamers, but those who have gained recognition in gaming are often overlooked and discredited. However, BrookeAB is working to change that. The well-known gamer is popular for her Twitch streams. Her gaming skills have gotten her lots of notoriety on the internet and all over the world. She's also built a very large following on social media. Her presence in the gaming world is shattering stereotypes and making it very clear that gaming isn't just for people who fit a certain description. Keep reading for 10 things you didn't know about BrookeAB.
1. She Took A Break From Streaming After Someone Obtained Her Personal Information
People should always be in control of the information that is shared about them. Unfortunately though, that isn't always the case and this is especially true for people who are in the public eye. In the summer of 2019, Brooke announced that she would be taking a break from the internet after someone obtained her personal information and threatened to share it. Sadly, incidents like this have become more and more common within the last few years.
2. She's A Very Private Person
Brooke has a huge platform on social media, but she's still a very low key person. Even Brooke's most dedicated fans probably don't know anything about her outside of gaming. Apparently, Brooke likes it that way. She is very private and has made it a point not to share much information about her life away from the Internet.
3. She's A YouTuber
Twitch is Brooke's primary platform, but she's also built a strong presence on YouTube. The channel consists of a variety of content including gaming and reaction videos. Brooke started her YouTube channel in the summer of 2018. In the time since, she's gained over 220,000 subscribers and her videos have racked up over 10 million views.
4. She Has A Boyfriend
As a girl who loves video games, there are lots of people out there who would consider BrookeAB to be their dream girl. However, she isn't interested in any of that. She is in a relationship with fellow gamer and social media influencer, Morgan Lanier. We aren't sure exactly how long they've been together, but they seem very happy.
5. She Started Gaming Around 6
At 6-years-old, most people aren't anywhere near developing their hobbies. However, young Brooke was way ahead of her time. Brooke has been a gamer for more of her life. She discovered her love for playing video games when she was just 6-years-old. She says she started on a PC playing simple games before moving up to the more complex PC games and well as games on other consoles.
6. She's From Alabama
Finding information on BrookeAB is a little difficult since she doesn't reveal much about her personal life. However, several sources indicate that she was born and raised in Alabama. However, she has since decided to relocate to California to put herself in a better position to take advantage of entertainment opportunities.
7. She Studied Psychology
Making a living by playing video games and letting other people watch wasn't always Brooke's career path. She actually has a degree in Psychology and was planning on working in the field. However, once her gaming career took out, she instantly realized that she wanted to get in the entertainment industry.
8. She's Signed To A Talent Agency
In a lot of ways social media influencers have become the latest celebrities. Social media influencers signing to talent agencies is becoming more and more common. Brooke is signed to the United Talent Agency (UTA). The agency has worked with several major brands and well-known celebrities. They specialize in helping "the world's most inspiring people make the world a more inspiring place."
9. She's Only Been Streaming For About Two Years
Building a strong following social media is a task within itself. While it may seem like Brooke popped up out of nowhere, that isn't the case at all. She started streaming videos in 2018. In just two years, she has managed to to gain hundreds of thousands of followers who are excited for not just her gaming content, but her other content as well.
10. She's An Artist
Brooke spends a lot of her time playing video games, but that isn't the only thing she's good at or passionate about. She has recently started sharing some of her art work with her followers. Brooke's ability to capture a moment is truly unmatched and her fans are really loving the couple of pieces she's shared so far.