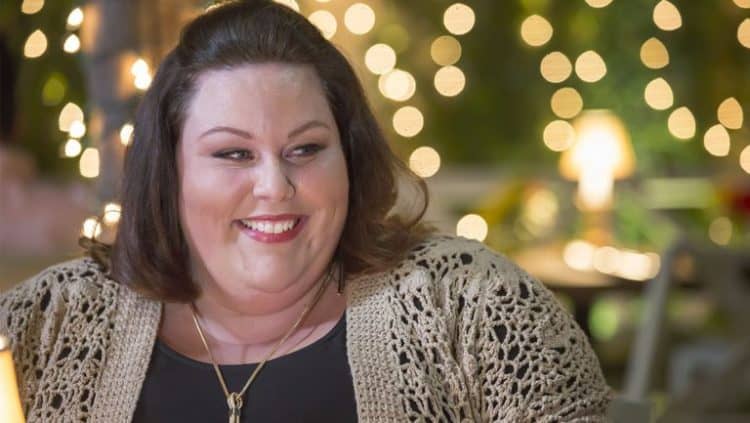 For a lot of years, no matter how much it's been worked against, being a bigger person in film and TV has still been seen as kind of a stigma that marks people for certain roles and leaves them open for ridicule and mockery. Some of it has been in good fun as it was designed to be, but in this day and age the image that more and more people want is that which Chrissy Metz has been pushing, a desire to feel good about who we are and what we look like. She's a bigger woman, there's no doubt about that, but she's also a very lovely and engaging actress that has managed to open a lot of eyes and wake people up to the fact that being big isn't a detriment to acting. It doesn't really matter how big or small you are, acting talent is prevalent in those that have a knack for it and are ready to put in the work to make a career for themselves.
Here are a few other things you might not have known about Chrissy.
10. She was flat broke when she was cast in This Is Us.
There was less than a dollar in her bank account apparently, which leads a person to believe that the performances she put in before being cast on the show weren't that high paying and had left her just enough to get by on. It's either that or she spent everything in the hope that she'd keep getting jobs. It's a lot nicer to believe the former reason though.
9. A lot of people recognize her from This Is Us and have thanked her for her performance.
People on the street have actually come up to her and stated that they're grateful for the positive image that she's displayed on the show and state that they didn't understand the problems of people in their lives that struggled with their image until they saw her acting.
8. She's been in a few shows if you can recall.
If you don't remember or haven't seen the shows she was in My Name is Earl for an episode and even in American Horror Story: Freak Show. She didn't play huge roles but she was there and is easy to recognize if you go back and watch.
7. Chrissy has been around show business for longer than some folks know about.
This Is Us isn't her first go at being famous but it is one of her most notable roles which is why a lot of people have possibly been noticing her a lot more. Something about the show has really resonated with folks and has gotten them noticing the stars that have made them stand up and pay attention.
6. She's been nominated for several awards and won one of them.
Chrissy managed to snag a Screen Actors Guild award for This Is Us while she was nominated for several that went to other recipients. This is just further proof that she's doing something right and is really beginning to come out as an actress.
5. Chrissy sings in her own band, Chrissy and the Vapors.
Chrissy has shown that she's comfortable with who she is and what she does and there's no better way to prove this than to keep performing and just being who she is. If she's not standing in front of the camera she's on stage singing with her band, expressing herself in another way that's quite impressive.
4. She and her family spent a number of years in Japan.
Her father was in the US Navy so she and her family spent a good deal of time overseas. Eventually though they returned to the US and remained there for the rest of her younger years. In truth it doesn't seem to have affected her all that much, though she might have soaked up a good deal of culture while she was abroad.
3. There's a new movie coming out in 2019 that she'll be starring in.
The title of the movie is Breakthrough and she'll be starring as the mother figure that prays fervently after her son falls into an icy lake and is pronounced dead some time after. The movie is one of those that is being made to promote the miracle and power of prayer and so far is getting a lot of hype that makes it seem like it might be worth watching.
2. She's 38 years old.
She's not old but she's not young either, as she came to her acting career kind of late compared to a lot of other people. Whether it was because of self-image or because she didn't know what she wanted to do yet is unknown, but she's been tearing it up since she's been around.
1. Chrissy started acting in 2005.
It does make a lot of sense that she's starting to peak now since a lot of those that started their careers a decade or more ago are really starting to own the screen when it comes to their careers finally reaching a high point.
She's just one of many proving that body image is what you make of it in the industry.