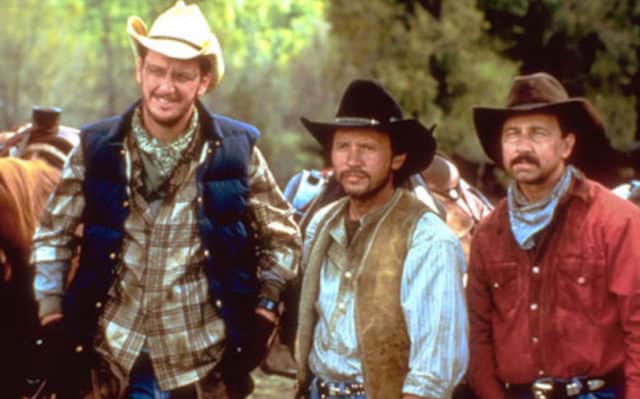 The weekend warriors, the dimestore cowboys, the city slickers, whatever you want to call them they're the guys that come out and do minimal work for the sheer enjoyment of it and then go home to their high-priced lives and creature comforts while the real cowboys have to stay and do the hard stuff. It's a funny movie however and shows that no matter how citified a person is there's always a chance to show just how rough and tough you can be when the chips are down and you need to harden yourself a little. To be honest Billy Crystal and Jack Palance were the highlights of this movie, but there's a lot of other facts that helped to make it great.
Here are few you probably didn't know about.
10. The story about Billy Crystal's 'best day' in the film is an actual story from his life. 
He not only went to the ballgame with his dad in real life but he still has the program that he got Mickey Mantle to sign.
9. Jack Palance won an Oscar for this movie before seeing it.
This sounds almost unreal but a lot of actors seem to never watch their films after making them.
8. Daniel Stern didn't take riding lessons so it would look like he really didn't know what he was doing.
If he was going for the fumbling look and wanting it to seem like he was about to fall off then he nailed it perfectly.
7. This was Jake Gyllenhaal's film debut. 
He played Billy Crystal's son and only had a short amount of screen time in the beginning and the end.
6. Charles Bronson turned down the role of Curly. 
He wasn't all that nice about it either it would seem, as he was a bit curt with those that asked him to take the role.
5. Billy Crystal actually bought the horse he was riding.
This same horse shows up in City Slickers II as well.
4. Rick Moranis was cast in a major role but had to leave before filming.
Unfortunately Moranis' wife was diagnosed with cancer before filming could get going and he had to go and be by her side. Eventually he would bow out of movies altogether.
3. Billy Crystal did all his own stunts.
This might seem like something a comedian would never in a million years do but Crystal was adamant about playing his part.
2. Billy Crystal actually helped to deliver a calf.
The calf that was actually delivered was a puppet but he did help deliver six different calves that were all sent to a farm to be cared for afterward.
1. Jack Palance was very intimidating on the set. 
Palance actually had a big verbal disagreement with the director and when approached by Crystal was asked what was wrong. Palance told him it was a case of the jitters, which is odd to think of since Palance has been in the game for so long.
It's definitely a film you would have to see to enjoy and remember but it was something special when it came out.