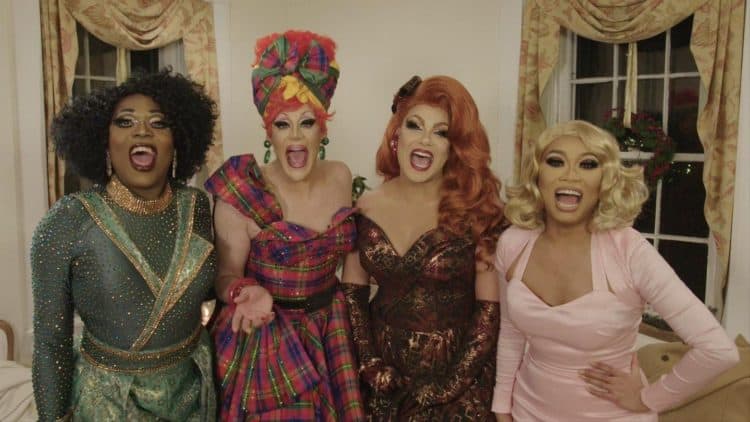 One could make the argument that wedding shows are starting to get more out of control, or more imaginative, simply because so much has been done at this point that the programs need something to shake them up. But Drag Me Down the Aisle seems like something that's going to ramp up the ratings simply because it's new and outlandish enough to really get people wondering what TLC is up to. It wouldn't be the first time and it probably won't be the last since when it comes to ratings most channels are going to do just about anything in order to keep them up and moving forward. In all honesty this seems like it will be something quite positive, but it also seems like something that will be flamboyant as well as over the top and possibly cringe-worthy in some regards. But hey, it will be interesting at least.
Here are a few things about the show you might not have known.
10. The drag queens will be helping a woman salvage her wedding.
The world 'salvage' might be a bit too much, but the drag queens will be helping with the wedding to make sure the woman that's getting married get to have everything she wants on her special day and is made to feel like a true queen when walking down the aisle.
9. The show is being featured on TLC.
TLC is certainly becoming known as channel that takes just about anything and everything that people are talking about, don't know about, or seem to need to know about. In essence it's a channel that's really trying to hop, skip, and jump around to get people to notice that it's still there. It works though, people do chime in when certain shows come on the tube.
8. The stars are alums of RuPaul's Drag Race.
Every one of the stars on this show are able to contribute their sense of style and verve to the bride in need and are not strangers to being on camera so you can easily guess that they're going to be taking the screen by storm in their own way.
7. Viewers are responding in a positive way to the show.
It could be the era we live in or it could be that people are just becoming far more tolerant when it comes to drag queens, or it could be some combination of those elements that is making this show click with a lot of audience members.
6. Three of the stars are professionals in their own field.
While not all of them are professional wedding planners they do bring something to the show that can be highly advantageous and will allow them to really give the bride what she's looking for and possibly make it the best day of her life.
5. It does offer a unique perspective on how to plan for a wedding.
With the large number of wedding shows that are out there to be watched this is yet another one that's going to be giving another perspective that people might want to take a look at just because it's different and because it's, well, flamboyant. Really, the four drag queens aren't known for being quiet or dull in any way, so it's bound to be something that will gain a lot of attention just for their antics.
4. It's going to follow Say Yes to the Dress.
This does kind of make sense from a scheduling standpoint on TV since wedding shows being featured back to back is something that seems to offer some sort of continuity that might keep people watching the channel for a longer period of time. Imagine people that love watching these shows just blocking off a large section of time for these shows since they don't want to miss one in case they might see something interesting.
3. The show will likely be kind of outrageous on purpose.
This seems like a given since the use of drag queens that are bigger than life personalities and the idea of creating the perfect wedding doesn't seem like it's going to give way to something that's low-key and calm. There's likely to be a lot of action and hilarity going on just for the sake of the program.
2. So far people are liking the idea.
If drag queens aren't your thing then so be it, but a lot of folks seem like they're already interested in the idea largely because it's new, it's exciting, and it's bound to show somethign that we haven't seen before and will be worth the time invested.
1. There will likely be an emphasis on body issues.
A lot of brides go through this on their special day, and you can imagine that it's going to be something that's discussed more than once.
It might be worth a look.