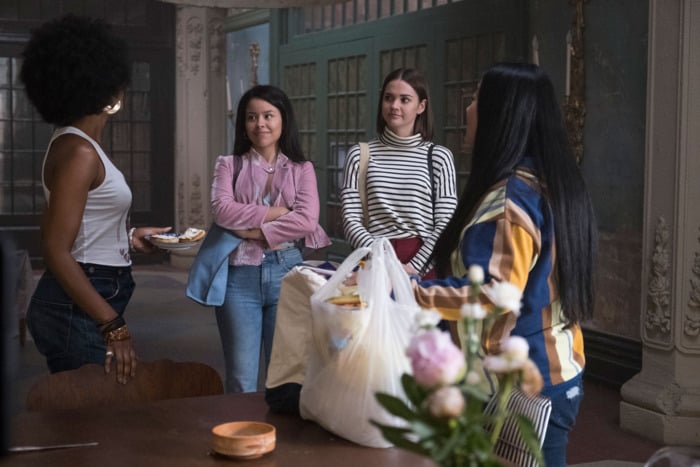 Good Trouble is a new drama that has started up in January of 2019. Currently, there is an order for 13 episodes. As a result, it will be interesting to see whether Good Trouble can be successful enough to secure further seasons. Here are 10 things that you may or may not have known about Good Trouble:
1. On Freeform
For those who are curious, Good Trouble is being broadcast on Freeform, which is a channel aimed at teenagers as well as young adults. It is interesting to note that Freeform have been owned by four different companies, meaning that it has seen a lot of changes over the course of its existence.
2. Spinoff of The Fosters
Good Trouble is a spinoff of The Fosters. In short, The Fosters is centered on a lesbian couple Stef and Lena Adams Foster, who have a multi-ethnic, blended family. The couple have five children, with one being Stef's biological son, two being twins who were adopted when they were very young, and two being foster children who winded up being adopted down the road.
3. Announced After the End of The Fosters
After Freeform announced the ending of The Fosters, it wasn't too long before it announced the existence of Good Trouble as well. This ensured that people who loved The Fosters would have a new show to keep a watchful eye on, though of course, it remains to be seen how well that will work out because it is still so new.
4. Set 5 Years After the End of The Fosters
Speaking of which, it is important to note that Good Trouble is supposed to be set 5 years after the end of The Fosters. As a result, this makes it possible to have a different story in a different location, thus making the result both familiar and unfamiliar in various ways.
5. Set in Los Angeles
For instance, The Fosters was set in San Diego. In contrast, Good Trouble is set in Los Angeles. Granted, the two cities aren't actually that far from one another by North American standards, but there is nonetheless enough distance to make it easier for Good Trouble to be its own show without being overwhelmed by its predecessor.
6. Focuses On Callie Adams Foster
One of the two main characters on Good Trouble is Callie Adams Foster, who would be Stef and Lena's eldest daughter. Suffice to say that her path to becoming adopted by Stef and Lena was a long and complicated one that nonetheless ended well. In Good Trouble, Callie has become a law clerk for a judge after graduating from UCSD Law School.
7. Focuses On Mariana Adams Foster
The other main character is Mariana Adams Foster, who would be Jesus's twin sister who struggled with the standard but nonetheless serious slew of teenage issues on top of her complicated relationship with her birth mother. By the time of Good Trouble, she has become a software engineer.
8. The Two Are Living in a Place with Shared Bathrooms, Kitchens, and Other Communal Spaces
Amusingly, Callie and Mariana are living in a former movie palace that has been turned into living spaces. Unsurprisingly, the building isn't perfectly suited for it, which is why while living spaces are separate, the bathrooms, kitchens, and other communal spaces are shared with other residents. This makes it that much easier for the show to set up interesting interactions for the sisters with the various residents, who are of course, very good-looking.
9. Interested in Social Justice
The show has a clear interest in social justice. For example, Callie takes a progressive stance on police brutality directed towards minorities whereas her boss has a more conservative position on the matter. Likewise, Mariana's tech company has what one might call a bro-centric work culture, which makes it somewhat awkward for her as one of its two female engineers. With that said, Good Trouble is interesting in that while both characters have good intentions, they are by no means perfect when it comes to their jobs because no one can be perfect when they start out in the workplace.
10. Generation Z Drama
In a very real sense, Good Trouble can be considered a Generation Z drama. This makes sense because Generation Z is starting to enter the workforce in significant numbers, thus making the timing perfect.